Phoebe Boswell: The Black Horizon
Presented by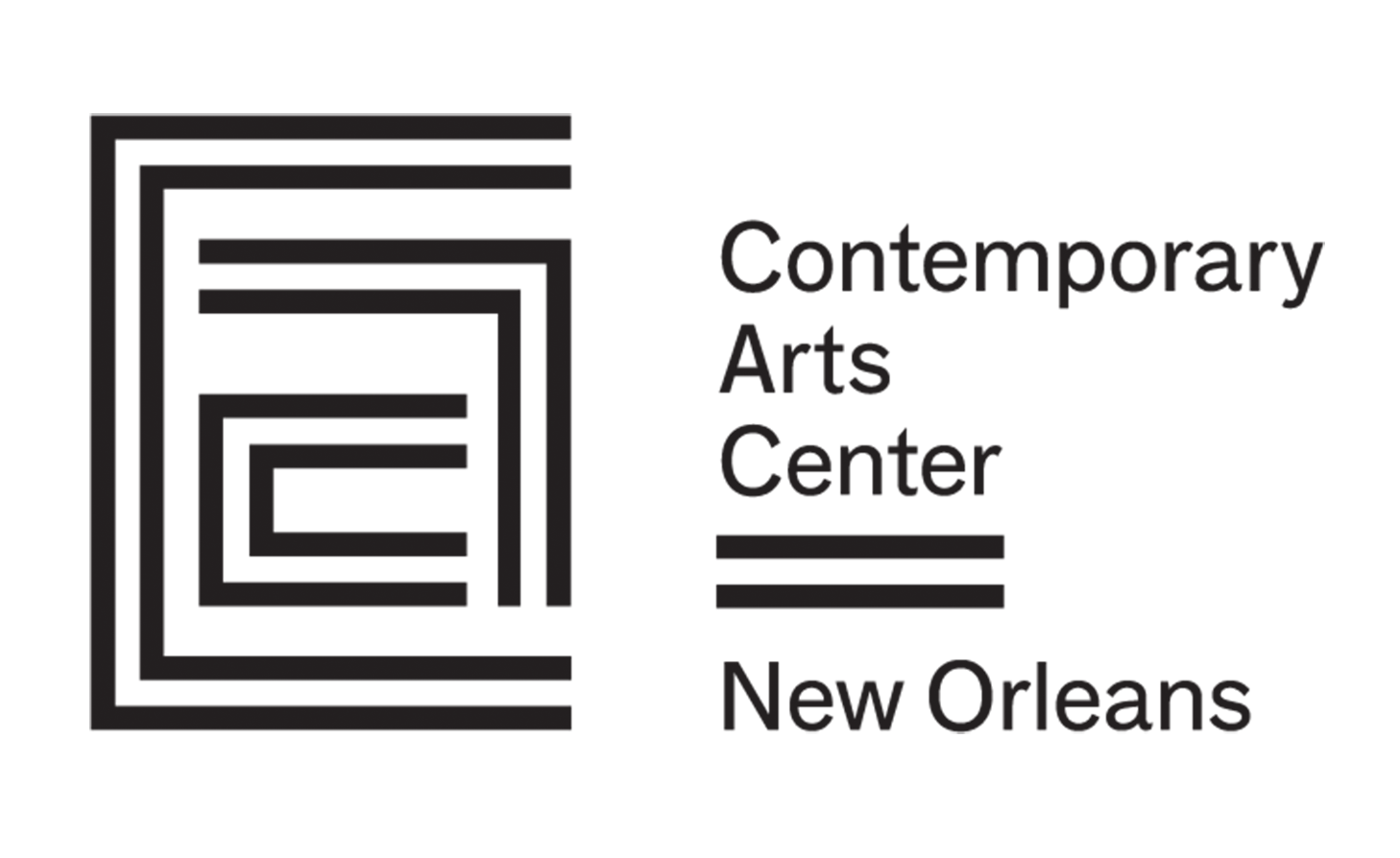 Contemporary Arts Center, New Orleans

Prospect New Orleans
The Black Horizon [Do We Muse On The Sky Or Remember The Sea?] is a site-specific installation by UK-based multidisciplinary artist Phoebe Boswell. The work was on view in the CAC's Oval Gallery as part of Prospect.5: Yesterday we said tomorrow, from December 12, 2021 until January 23, 2022.
Through charcoal and pastel portraits drawn by Boswell onto the Oval Gallery walls over the course of a month, the installation imagines water as a site for a porous gathering of portraits, voices, and stories from across the African diaspora, creating a meditative space in which visitors are encouraged to imagine Black futures and Black freedom.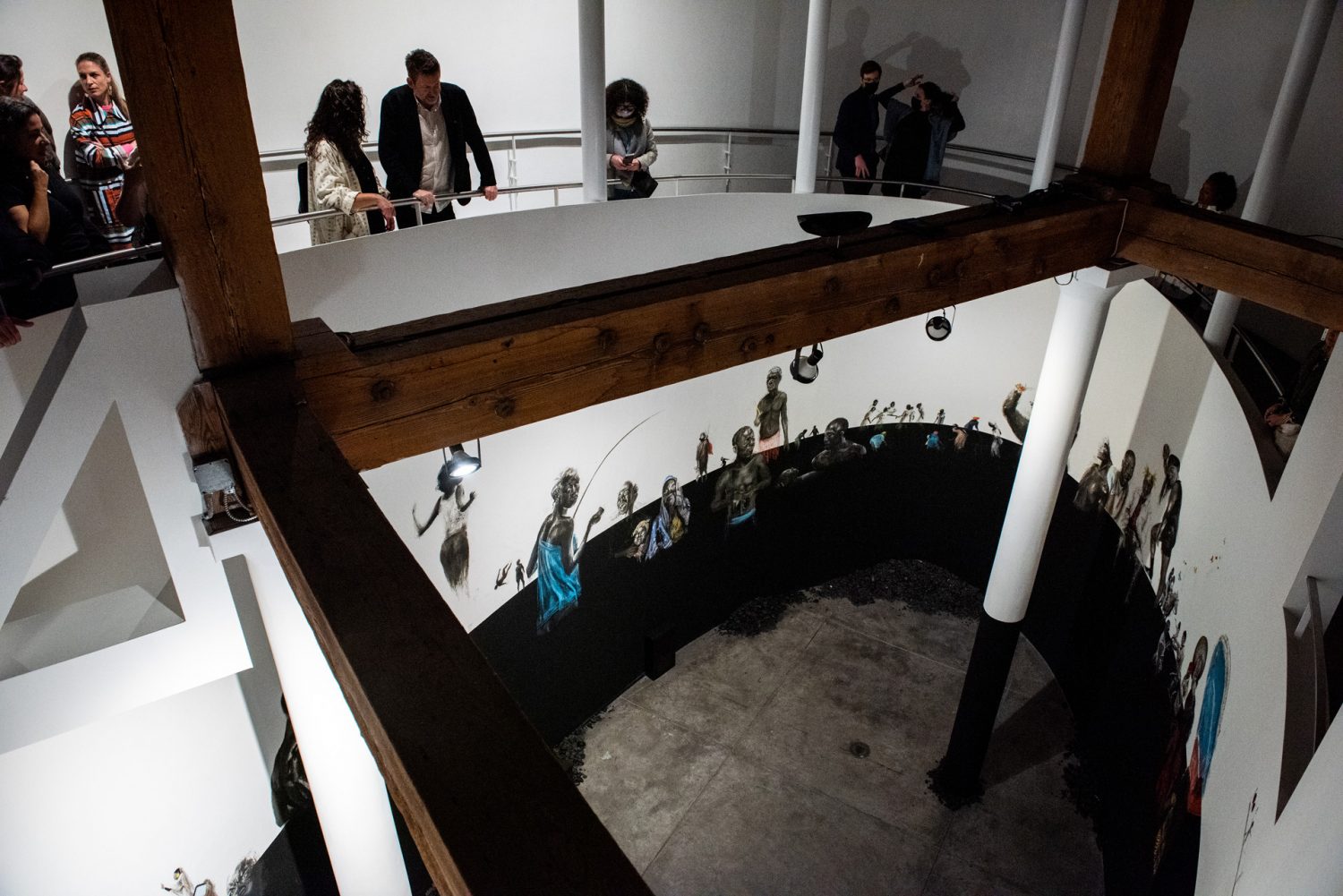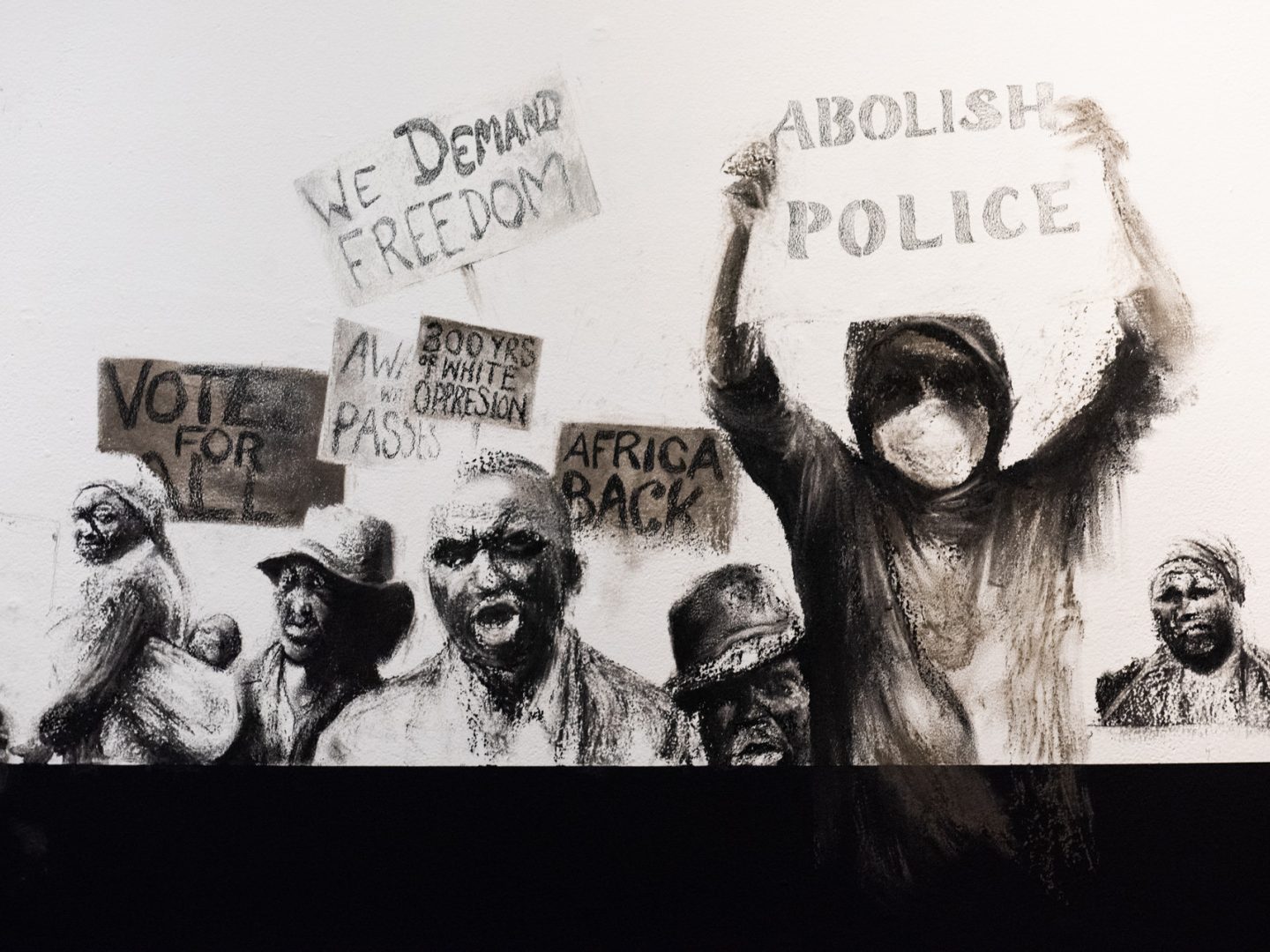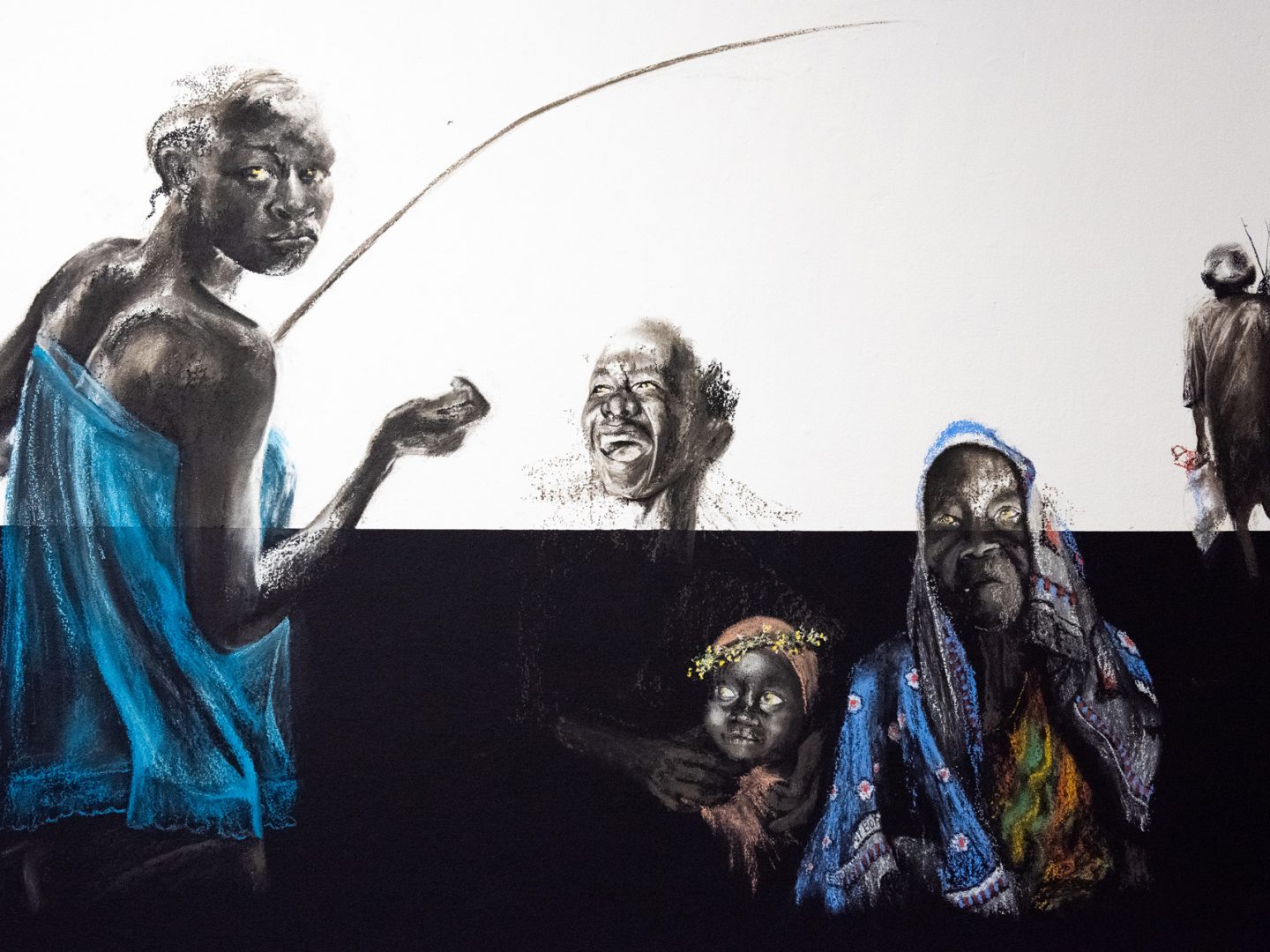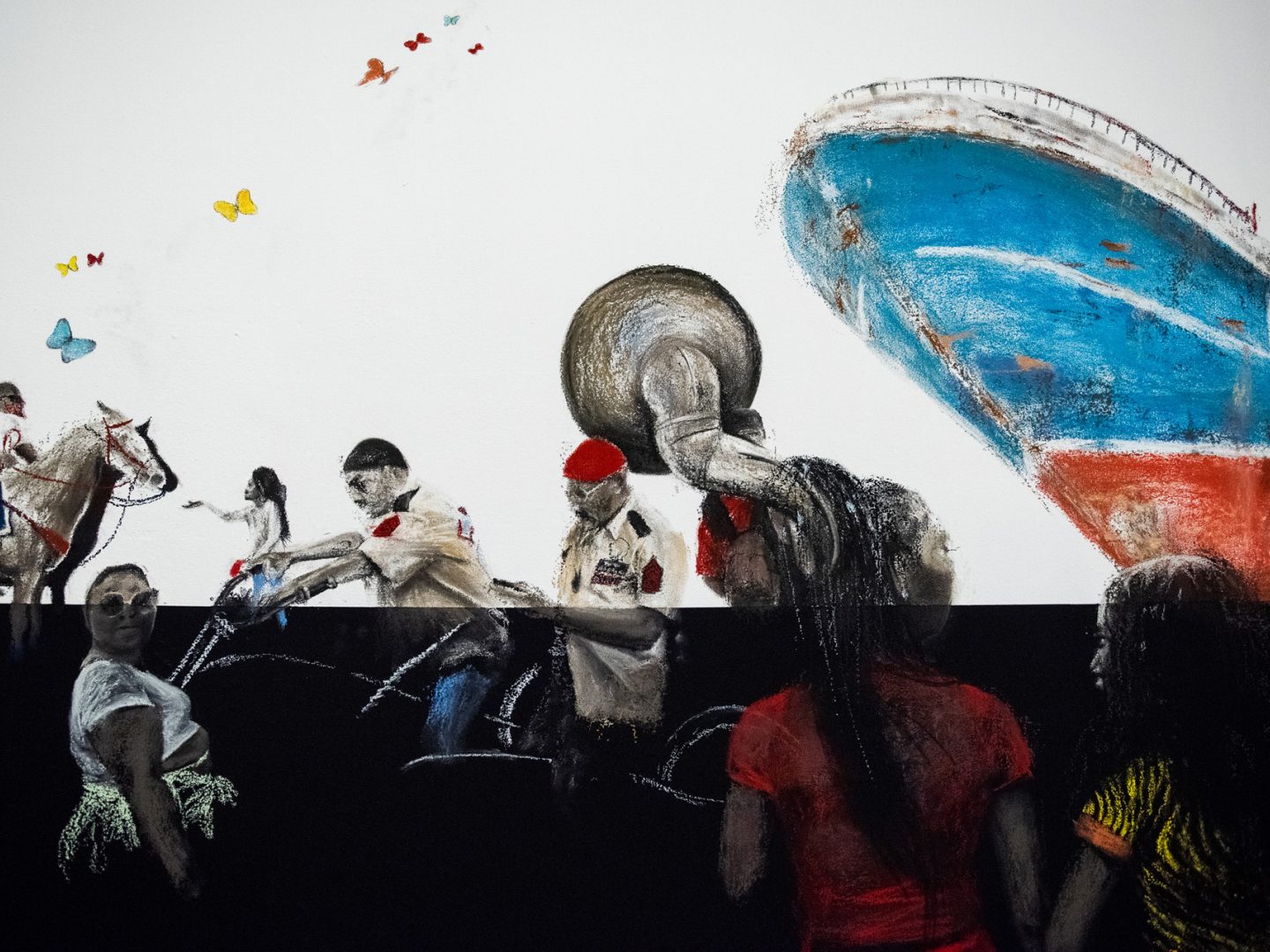 Watch the Performance: The Black Horizon
Recorded live on December 12, 2021, Boswell's installation opened with a special one-time performance featuring a musical soundscape created and performed by musician, collaborator, and saxophonist JD Allen, accompanied by instrumental and spoken-word musings on freedom gathered from Black writers, thinkers, and artists that have collaborated with or have inspired the artist.
Enjoy the full performance with commentary from Phoebe Boswell, below!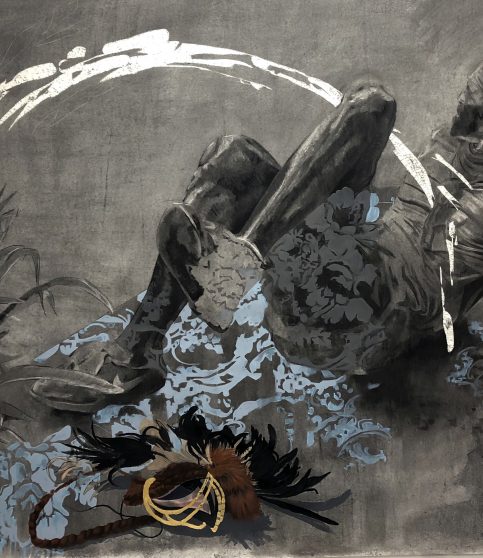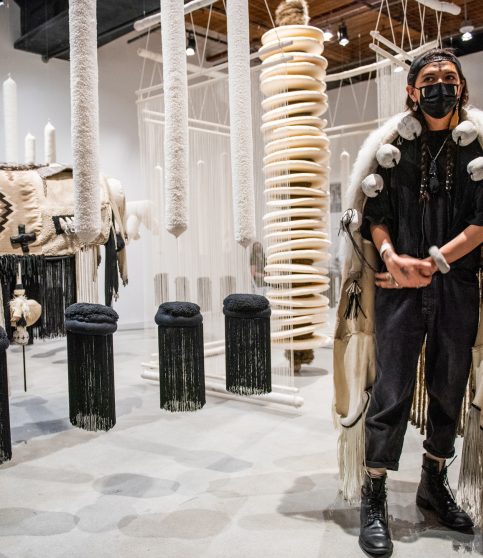 Exhibition, Dance
Saturday Jan 22, 2022
Learn More
Cast and Credits
The Black Horizon [Do We Muse on the Sky or Remember the Sea]
by Phoebe Boswell
Soundscape: JD Allen and Phoebe Boswell
Composer and musician: JD Allen
Filmed and edited by DBM Creative, LCC
Photography by Ryan Hodgson-Rigsbee
Soundscape Voices: Ama Josephine B. Johnstone, Axel Kacoutié, Bonaventure Soh Bejeng Ndikung (whose contribution included a reading of Praise Song For Oceania by Craig Santos Perez), Buitumelo Mushekwa, Cecile Emeke, Chinyere Ogbue, Chris Abani, Christina Sharpe, Cyrus Cassells, Dorothy Oboshie (aged 3), Elnathan John, Emmanuel Iduma, Mpilenhle 'Enhle' Masuku (aged 4), Farzana Khan, Hanou Amendah, Jamal Ademola, Janine Francois, Jareh Das, Jason Fitzroy Jeffers, JD Allen, Jessica Horn, John Sibi-Okumu, Jonathan Faulkner, Josh Rivers, Julian Knxx, Karen McLean, L.Kasimu Harris, Lucia Olubunmi Momoh, Maaza Mengiste, Michel Martin, Moses Leo, Mumbi Kanyogo, Nadine Peters (who chose words from Acts of Faith: Meditations for People of Colour by Iyanla Vanzant), Natalie Nzeyimana, Ndinda Kioko, Nephertiti Oboshie Schandorf, Nico Wheadon, Njung'e Wanjiru, Oluremi Onabanjo, Otoniya Juliane Okot Bitek, Péjú Oshin, Poe_henny, Raymond Antrobus, Renée Mussai, Rinaldo Walcott, Saidiya Hartman, Sakhile Matlhare, Sasha Huber, Shabaka Hutchings, Tunde Adebimpe, Wana Udobang, Wanlov the Kubulor, Weyland McKenzie, Yasmina Price, Yvonne Adhiambo Owuor
Film / Image attributions: Killer of Sheep (Charles Burnett); Daughters of the Dust (Julie Dash); Moonlight (Barry Jenkins); Losing Ground (Kathleen Collins); Lover's Rock (Steve McQueen); Nu Atlantis (Prosper Jones) ; Haiti struggles for aid and survival after earthquake (Joe Raedle / Getty Images | via Christina Sharpe / In the Wake: On Blackness and Being)

Special Thanks
"With special thanks to everyone who has met this work with grace, generosity and kindness. To Noah, Marco, Jayson, Dani, DiQuan, George, Jo, Jen, Brian, Wayne, LaShae and everyone at the CAC. To LB. To Abraham. To Asia and the good folks at Ace. To Dustin for taking me to Lincoln Beach. To Poe, Jag and Juke. To the 9th Ward Second Line. To Kasimu and Prosper. To Reece Ewing. To Freddie Boswell. To Diana Nawi, Naima Keith, Grace Deveney, Lucia Momoh, Nick Stillman and everyone at Prospect. To JD for meeting me here. To New Orleans, I'm entirely enchanted. To you, who will spend time with the work. To our ancestors. With love." – Phoebe Boswell