Press
> Announcement, Press Release
CAC Announces 2022 Call to Gulf South Artists Seeking Works Reflecting Upon Environmental Issues
(New Orleans, LA - March 4, 2022): The Contemporary Arts Center (CAC) New Orleans announced today its annual Gulf South Open Call inviting artists to submit artworks that reflect on issues of the environment. This will be the third exhibition in the CAC's Inter[SECTOR] series of programs that explore intersections of art and social issues. This exhibition is being organized by the Contemporary Arts Center, New Orleans, and curated by Erin Lee Antonak, the CAC's new Multidisciplinary Arts Curator.
Artists who currently live and/or work in the Gulf South states of LA, TX, AL, MS, and FL may apply from March 4, 2022 through April 8, 2022. The exhibition will be on view at the Contemporary Arts Center (located at 900 Camp Street, New Orleans, LA) from July 30, 2022 through September 25, 2022. For submission guidelines, important dates, and to submit, please click here.

About the Exhibition
The environmental crisis is a cultural challenge. How citizens of the world collectively respond will set the course for our and our children's lifetimes. There is an urgency for new directions as the Earth's temperatures rise, an imperative that we shift from our course both locally and globally. Artists engaged in conversation with activists, policymakers and impacted communities can educate, advocate, and provoke dialogue. Art has an ability to connect with people on a personal level and inspire action.
The CAC is seeking artists whose work seeks to effect change. Artists working in new and experimental ways across diverse mediums on the subject of the environment. Topics can include but are not limited to issues such as climate change, pollution, coastal land erosion, natural disasters, dwindling resources, mass extinction, home loss, environmental racism, and growing inequalities brought on by the effects of climate change. We welcome all multidisciplinary artists and artist collectives living and/or working in the Gulf South to apply.
About the Curator
Erin Lee Antonak is an enrolled member of the Oneida Indian Nation of New York. She received her BA from Bard College and an MFA from The State University of New York at New Paltz. She has studied Museum Exhibition Planning and Design at The University of the Arts, Philadelphia, and Fine Art at Lacoste School of the Arts, France. Erin is currently the Board Chair of the Indigenous Women's Voices Summit at the Hurleyville Performing Arts Centre, Hurleyville, NY which celebrates contemporary Native American art, dance and film. She also currently serves as a Yale University Morse College Fellow, New Haven, CT. She has developed, designed, and built exhibitions for museums and art galleries for 20 years in Europe, Asia, Africa, South America and North America. Erin Joins the CAC after acting as Curator at the Ohr-O'Keefe Museum, Biloxi, MS and having recently worked as assistant curator on an outdoor land-based and installation exhibition, Owning Earth, at Unison Arts Center, New Paltz, NY.
CAC Executive Director George Scheer adds, "The Gulf South Open Call is an essential part of our annual program. It welcomes artists' voices from throughout the region to speak to the defining ideas of our place and time. In the Gulf South we are living at the epicenter of so many interrelated and systemic challenges. Here, we are all impacted, and in the vision of our artists we find insight into how we might live and see."
In addition to The Andrew W. Mellon Foundation and The Andy Warhol Foundation, the Inter[SECTOR] series is supported by the New England Foundation for the Arts' National Dance Project (with lead funding from Doris Duke Charitable Foundation and The Andrew Mellon Foundation). Support for this exhibition is also provided by Sydney & Walda Besthoff, The Helis Foundation, and the Welch Family Foundation. This exhibition is also supported by the City of New Orleans through a Community Arts Grant, as well as by a grant from the Louisiana Division of the Arts, Office of Cultural Development, Department of Culture, Recreation and Tourism, in cooperation with the Louisiana State Arts Council.
Resources
Promo images and submission guidelines
###
About the CAC
The Contemporary Arts Center, New Orleans is committed to artists, the presentation of multidisciplinary work, and advancing the value and power of the art of our time. As a touchstone for Contemporary Art in New Orleans and the Gulf South, the CAC works to foster awareness of new ideas in contemporary art; provide exhibition and performance opportunities for artists pioneering in their fields; serve as a hub for artistic communities; and enhance access for New Orleans and Gulf South communities to contemporary art that provokes, inspires, and encourages critical and creative reflection on a just society. Museum admission is free on Sundays for Louisiana residents, courtesy of The Helis Foundation. Children and students through Grade 12 and under receive free admission, courtesy of The Helis Foundation. For more information call 504 528-3805. Visit the CAC at 900 Camp Street and online at cacno.org.


Media Contact:
Laura B. Tennyson
Associate Director of Communications
Contemporary Arts Center
(504) 319-9943 | LTennyson@cacno.org
900 Camp Street, New Orleans, LA 70117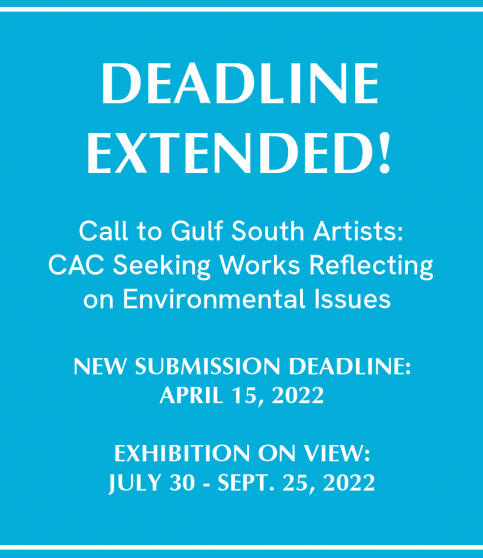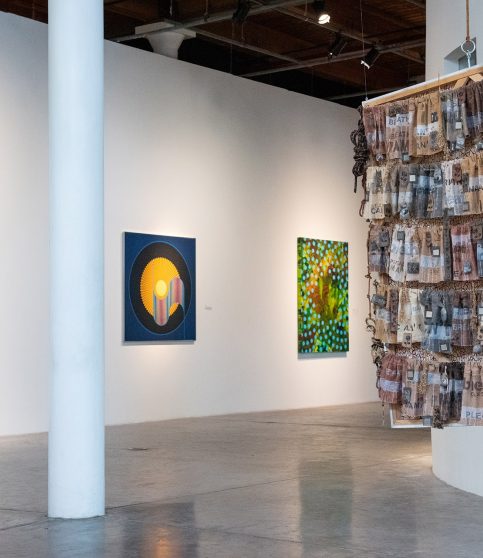 Visual Arts
Saturday Jul 31 – Sunday Sep 26, 2021
Learn More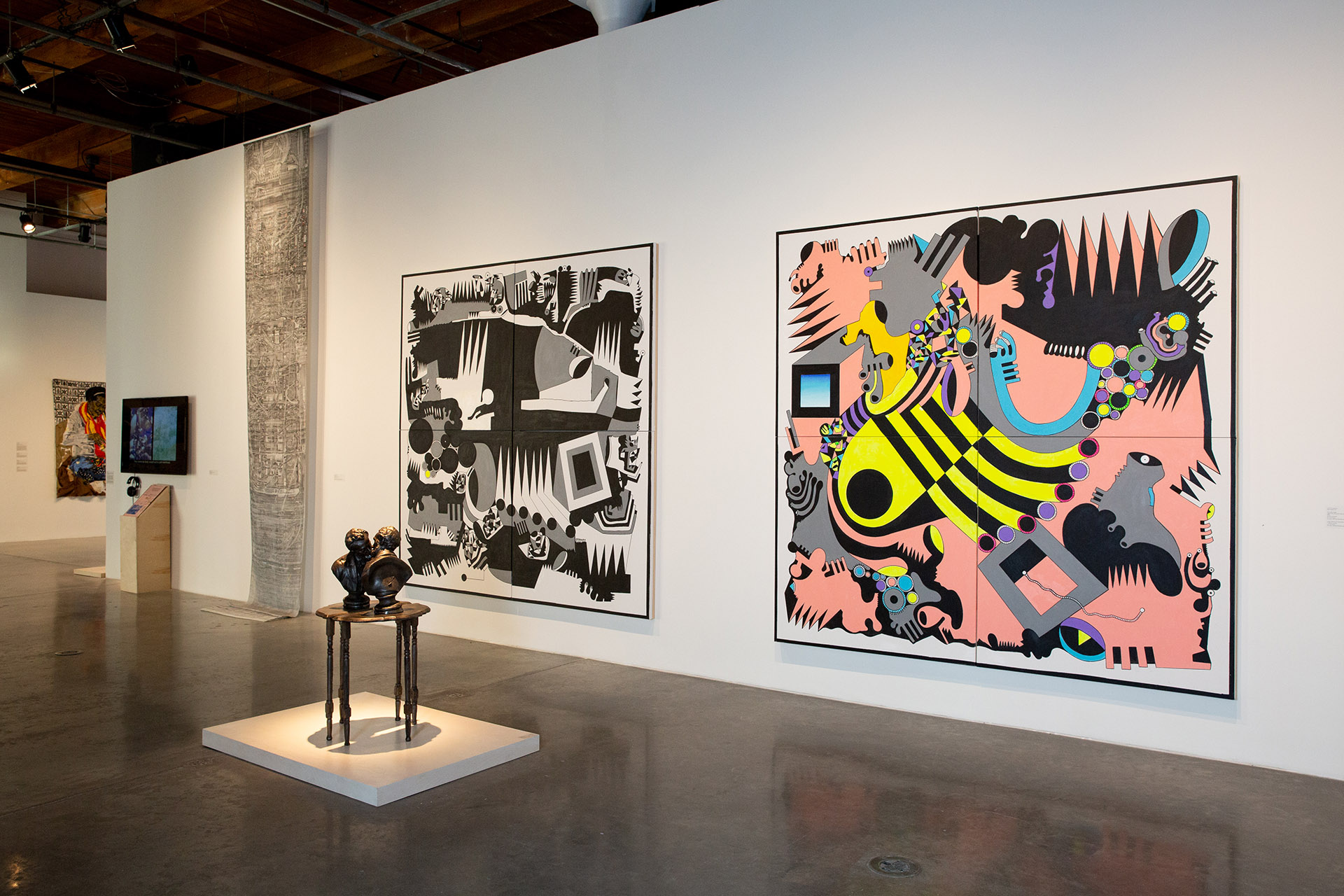 Visual Arts
Friday Sep 18, 2020 – Sunday Apr 25, 2021
Learn More