Press
> Press Release, Announcement
(New Orleans, LA - June 1, 2022): The Contemporary Arts Center, New Orleans (CAC) announced today the selection of New Orleans-based visual and performing artists for its 2022 Artist Residency program. The residencies advance the CAC's mission to foster and engage local and regional artist communities, and support the creation of multidisciplinary art of our time.
From a robust applicant pool, the CAC's multi-disciplinary curatorial team selected the following artists for the Summer residency: Britt Ransom a visual artists whose practice and teaching explore the conflicts within our shared climate through digital fabrication processes; Lauren Ashlee Messina, a mover, maker, and mentor who is fascinated by the medium of dance; Laveau Contraire, a drag performer whose work COLORS is a decadent celebration of the vibrant lives and expressions of some of the gulf coast's most brilliant performers of color. Contraire's collaborators include sora, a DIY Pop-Star; Synamin Vixen, writer, educator and choreographer; and Franky Canga, a multidisciplinary performance artist. Rounding off the cohort is a.r. havel, a multidisciplinary artist who brings his work Oh Holy Filth, a collaborative altar project that combines set design, photography, collage, and spiritual practice. havel's collaborators include Xiamara Chupaflor, a collage and mixed media artist; and Koko Barrios, a first generation Mexican-American multidisciplinary artist from Los Angeles.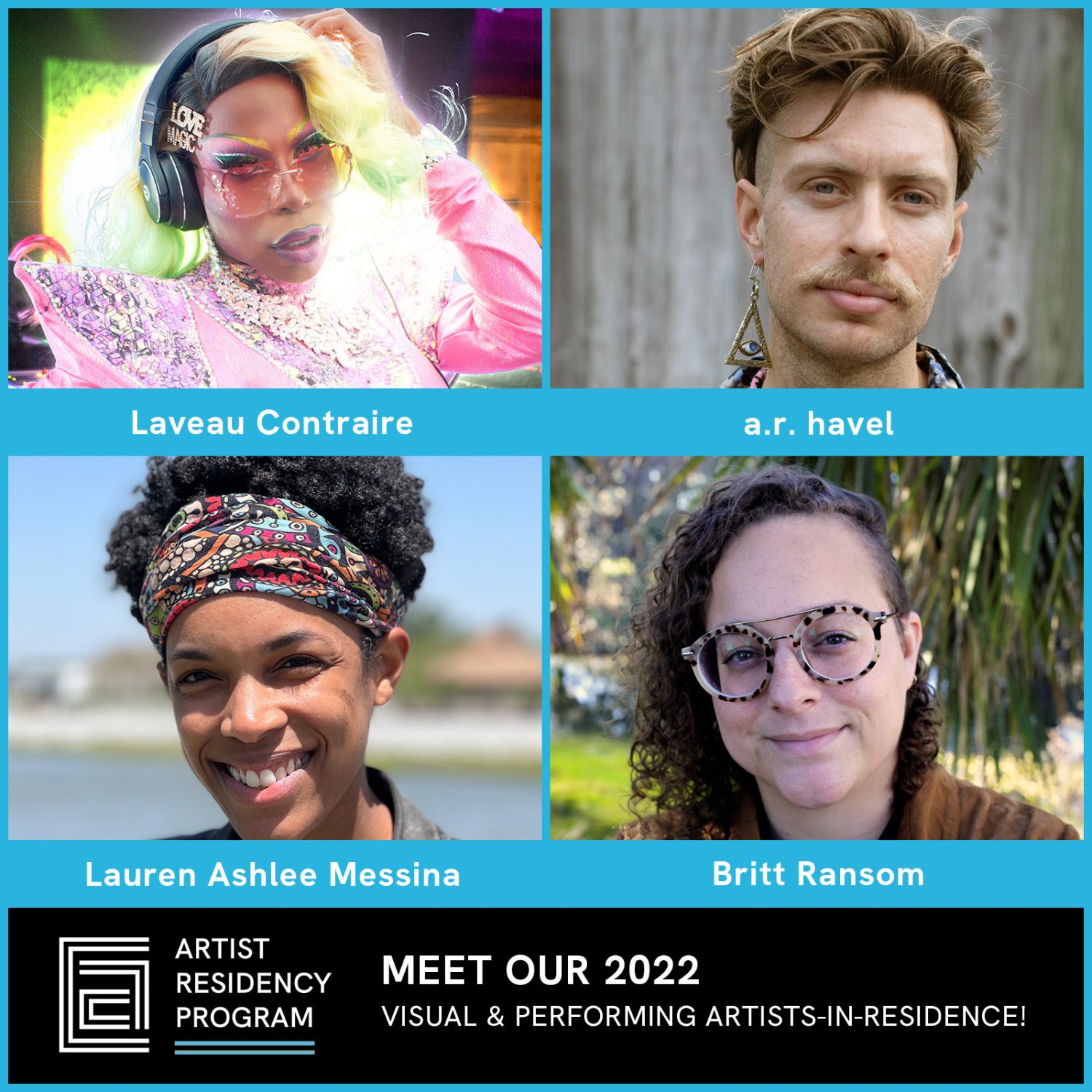 "New Orleans is a city full of diverse artists creating important and innovative work and the applications we received is proof of this. I was beyond impressed with the proposals and was heartened to see the range of voices and talent. The visual and performing artists selected for this year's residencies are going to bring much color and life to the CAC and I am pleased to be able to work with them in the development of their solo shows," states Erin Lee Antonak the CAC's Multidisciplinary Arts Curator.
The CAC's Artist Residency program is an application-based program offering access to time, space, resources, and professional development opportunities from the CAC for performing and visual artists based in New Orleans. Additionally, each of the selected artists/companies are paid a stipend of $1,000.
The Performing Artists-in-Residence participate in a series of intensive two-week residencies in the CAC's Black Box Theater where they engage in technical and curatorial support from CAC leadership team. Each performance group is allotted a span of time where they are in residence at the CAC. The first performing group will be in residency from June 13 – July 9, 2022, with the second in-residence from August 1 -September 3, 2022. The visual artists-in-residence, will be featured in the CAC's 2022 SOLOS Exhibition, opening July 30, 2022 and will be on view through September 25, 2022. Stay tuned for performances and exhibition details, coming soon at cacno.org.
BIOS: 2022 CAC VISUAL ARTISTS-IN-RESIDENCE

a.r. havel is a multidisciplinary artist originally from San Antonio, Texas. There, in collaboration with radical theater ensemble Jump-Start Performance Co. he learned a community-activated form of artistic practice. Before moving to New Orleans, he attended Hampshire College in Massachusetts. With an emphasis on set building and stage-craft, a.r. havel's visual fantasies highlight the inherent pleasure, sacredness, filth, and camp performativity of queerness. With a strong belief in celebration, pleasure, and joy as vital aspects of sustainable activism, he is most excited by creating utopic worlds where subjects can make their fantasies into fully felt realities.
For their 2022 CAC Residency, a.r. havel is creating OH HOLY FILTH, a collaborative altar project combining set design, photography, collage, and spiritual practice. Within sets designed and built by a.r. havel, Xiamara Chupaflor artistic directs posing models who are active or retired sex workers of New Orleans. As we begin with the belief that sex and erotic workers are sacred, Chupaflor brings votive spiritulity from her frontera origins near the so-called Mexican border. Photographs documenting these living tabelux will later be presented as sprawling public prayer altars, utilizing Chupaflor's collage skills in the creation of this exhibition. Koko Barrios is playfully concerned with the model's looks and poses as the project's make-up artist, stylist, and director for the shoots; they create one of a kind and over-the-top aesthetics that center the model's body as a space of liberation.
a.r. havel's collaborators in Oh Holy Filth include:

Xiamara Chupaflor is a bruja of Apache/Comanche descent living in the Mexican border people's diaspora. She is a sex worker, a second-generation hustler, punk-lifer, queer, writer, mixed media collage artist, and mediator. Currently based in so-called New Orleans, Louisiana-occupied Chitimacha territory Bulbancha, she was born in the west Texas desert, the Permian basin, occupied Apache territory. Since 2009, she has dedicated herself to honing and channeling skills through tarot divination and creating elaborate altars, intuiting ways through spells, candle magic, and tarot cards to guide personal practices, create, maintain relationships with the ancestors, deities, and spirit guides. Her perspectives and mission as a tarot guide are an extension of all of the skilled caregiving work she's spent the better part of twenty years developing as a queer sex working Brown woman living in the diaspora. As a collage and mixed media artist, she uses original clippings and media, choosing to work with non-digital media: paper, found objects, old print media and books, glitter, lace, fabric, herbs, scissors and glue. Her practices are reminders that you can turn trash into treasure.
Koko Barrios is a first generation Mexican-American multidisciplinary artist from Los Angeles. After studying at UC Berkeley, they moved to New Orleans in 2012. As an avid storyteller and decadent designer of all things costumes, make-up, and rasquache stylings, Barrios took to the culture easily. In the last few years, they have decided to take their home-grown skills on a professional path, collaborating with photographers and music video directors, creating iconic looks that meet both the aesthetic at hand and Barrios's own freaky fantasies.

Britt Ransom is half black queer artist currently based in New Orleans. Her practice and teaching explore the conflicts within our shared climate through digital fabrication processes. Ransom is the recipient of the Joan Mitchell Center Residency, Los Angeles Clean Tech Incubator (LACI) Residency, ZERO1 American Arts Incubator Fellowship, Santa Monica Camera Obscura Residency, Workshop Residence San Francisco, The Arctic Circle Residency, and the College Art Association Professional Development Award. Her work has been shown most recently at Honor Fraser (Los Angeles), Royale Projects (Los Angeles), Transmediale (Berlin), The University of Dallas, and the Chicago Artists Coalition. She has an upcoming solo exhibition at Pitzer College (Claremont, CA).
Ransom's writings have been featured in the Leonardo Journal published by MIT Press (2019), The 3D Additivist Cookbook (2016), The Routledge Handbook on Biology in Art, Architecture, and Design, Routledge Press Essay (2016), and most recently, In and Out of View: Art and the Dynamics of Circulation, Suppression, and Censorship (2021).
Ransom was the 2017 SIGGRAPH Studio Chair and the 2019 SIGGRAPH Art Gallery Chair and currently serves on the Board of Directors for the New Media Caucus. Ransom is a direct descendent of social rights activist Reverdy C. Ransom, and serves on the Board of Directors of the Emma S. and Reverdy C. Ransom Foundation located in Wilberforce, Ohio . Ransom was born in 1987 in Lima, Ohio and received her BFA from The Ohio State University and her MFA from the University of Illinois at Chicago. Beginning in September 2023, Ransom will be an Associate Professor of Art at Carnegie Mellon University specializing in sculpture, installation, and site work splitting studios between New Orleans and Pittsburgh.
For their 2022 CAC Residency, Ransom will create an installation about New Orleans' over 800 year old McDonogh Oak tree located in City Park. The work will explore the fragility, fragmentation, and precarious nature creating relics from a tree that has seen a dark and complicated human history. This in-progress sculptural installation will be a meditation on the idea that, as our climate continues to change, we may only be able to suspend nature through mediated means. 3D printed replications of delicate parts from the tree act as fossils for a possible plasticized future.
Instagram: @brittransom_studio
Website: brittanyransom.com

BIOS: 2022 CAC PERFORMING ARTISTS-IN-RESIDENCE

Lauren Ashlee Messina is a mover, maker, and mentor, fascinated by the medium of dance. Messina holds a Master of Fine Arts in Dance degree from Belhaven University and additional dance training from the Ailey School Professional Division of Alvin Ailey American Dance Theater, where she received the Oprah Winfrey Foundation Scholarship Award. Messina has further developed her performance and choreographic artistry in the Greater New Orleans area in collaboration with the Marigny Opera Ballet, KM Dance Project, the New Orleans Opera, and ELLEvate Dance Company. Her choreography has been performed at the New York Jazz Choreography Project, the 92nd Street Y, the Krannert Center for the Performing Arts, and the Mississippi Museum of Art. Messina is a participant in the pilot program Moving Toward Justice Open Workshop at Gibney Dance.
For her 2022 CAC Residency, Messina will create a new dance work exploring themes of difference, devastation, and displacement. This untitled work-in-process weaves stories, performing space and time through dance, film, and spoken word, influenced by topical blues music written by Black artists in response to the great flood of the lower Mississippi River in 1927. For the project she will collaborate with photographer and film artist André Messina (IG: @andremessina_)
Laveau Contraire (She/They) is a Drag Queen Extraordinaire from New Orleans, Louisiana. She has been putting audiences under her spell since 2015, and strives to bring magic and wonder to all of her artistic endeavors. Shortly after starting her drag journey, Laveau was crowned the winner of Tumblr's Drag Race Cycle 7 and hosted and produced Cycle 8. Since then, Laveau has expanded her artistry to include hosting, producing, live singing, original music, celebrity impersonations, improv, drag mothering, drag wrestling, and is always looking to expand her horizons. An educator by day, Laveau is passionate about making drag accessible to audiences of all ages and often participates in Drag Queen Storytime events throughout the city. Laveau was also recently awarded the title of "Best Drag Queen" by the community in the 2020 FLAME Magazine Awards, and Gambit's 40 under 40 Class of 2021. Known for her non-stop shenanigans, this witch is sure to bring down the house.
Facebook, Instagram, & Twitter: @laveaucontraire
For their 2022 CAC Residency, Contraire is developing COLORS, a decadent celebration of the vibrant lives and expressions of some of the gulf coast's most brilliant performers of color. Through the art forms of storytelling and performance, each performer will use a specific color to paint a picture from their own colorful lives. Together, the cast of COLORS will splatter the walls of your mind with experiences and perspectives on what it means to live in a world full of color.
Laveau's collaborators for COLORS include:

sora (He/They/Any) is a young pop songwriter who follows the timeless approach of taking emotional and personal experiences and bringing them to life, using a vast arsenal of sounds and influences paired with unique, striking visuals. The end result is music for the digital age: alt-pop made easy. Instagram & Twitter: @soracalling
Synamin Vixen (She/They) is a writer, educator, Black Studies scholar, singer, and choreographer. She has more than 25 years of dance experience locally and internationally, and graduated with a Bachelor of Arts in Black Studies and Dance Composition from Swarthmore College. She has studied Afro-Diasporic herbal and traditional care practices, reiki, and sex doula work for the past three years. With a wide range of experiences, Synamin explores how all of these different artistic interests live in one body and influence each other. Her choreography sparks conversations on identity and social memory. Much of Synamin's work explores how individuals relate to and influence groups, and how our narratives on similar events can differ greatly based on our lived experiences. Her work in burlesque (on and off stage) focuses on how the body is a sensual site of transformative healing. In 2021, she released her first book of ancestral poetry entitled Daughter of a Nymph Divine.
Franky Canga (He/him)is a multidisciplinary performance artist in New Orleans, who is originally from Miami. Franky is a classically trained dancer who uses technique to inform his drag, burlesque and circus art. Known as the gender-bending gentleman, his art often focuses on deconstructing the idea of what it means to be black and queer in the South. His Haitian heritage also plays a key role in informing his art and how he perceives the world. Franky has been a part of several cabaret and performance troupes including Fleur De Tease (New Orleans) and has performed in large scale circus shows all over New Orleans and around the country. Instagram: @frankycanga

Follow this Link for Artist Images.
The CAC is generously supported by funding from: The Helis Foundation, Mellon Foundation; Rosamary Foundation; Louisiana Division of the Arts; and the National Endowment for the Arts.
###
About the CAC
The Contemporary Arts Center, New Orleans is committed to artists, the presentation of multidisciplinary work, and advancing the value and power of the art of our time. As a touchstone for Contemporary Art in New Orleans and the Gulf South, the CAC works to foster awareness of new ideas in contemporary art; provide exhibition and performance opportunities for artists pioneering in their fields; serve as a hub for artistic communities; and enhance access for New Orleans and Gulf South communities to contemporary art that provokes, inspires, and encourages critical and creative reflection on a just society. Museum admission is free on Sundays for Louisiana residents, courtesy of The Helis Foundation. Children and students through Grade 12 and under receive free admission, courtesy of The Helis Foundation. Visit the CAC online at cacno.org.

Media Contact:
Laura B. Tennyson
Associate Director of Communications
Contemporary Arts Center
(504) 319-9943 | LTennyson@cacno.org
900 Camp Street, New Orleans, LA 70130