Written by Lisa D'amour
Directed by Katie Pearl
Featuring Jennifer Kidwell, Evan Spigelman and The Ocean Ensemble
Original Compositions: Sxip Shirey
Ocean Filibuster: a genre-crashing music theater experience set in a future Global Senate. When "Mr. Majority" proposes a bill to end the ocean as we know it, The Ocean arrives in human form to defend itself. Jennifer Kidwell, playing both roles, is joined by an "ocean ensemble" singing an urgent question: Can humans realize that we are Ocean, before it's too late?
Ocean Filibuster uses spectacle, participation and immersive performance to activate awareness and engagement in ocean science and climate justice.
Special Events:

Pay-What-You-Can Opening Night
Thursday, June 8
All tickets will be pay-what-you-can at the door, no reservations.
Artist Talkback
Friday, June 9
Join us after the performance for a Q&A with the show creators.
Free Public Panel Discussion
"New Orleans Roots of Environmental Justice: The 1998 Junebug Productions Echo Arts Environmental Justice Performing Arts Festival"
Saturday, June 10, 2:30pm, To learn more and register, click here.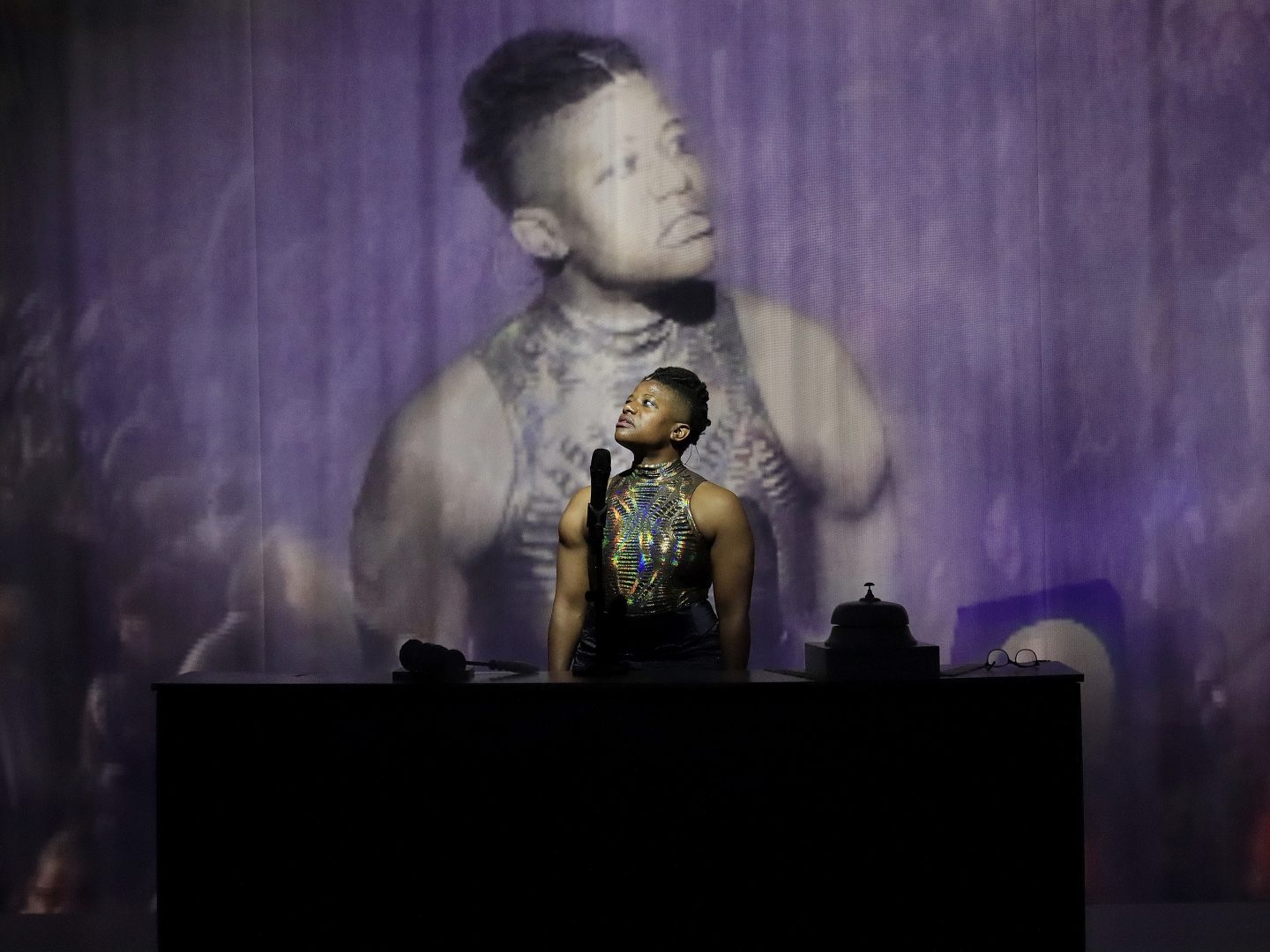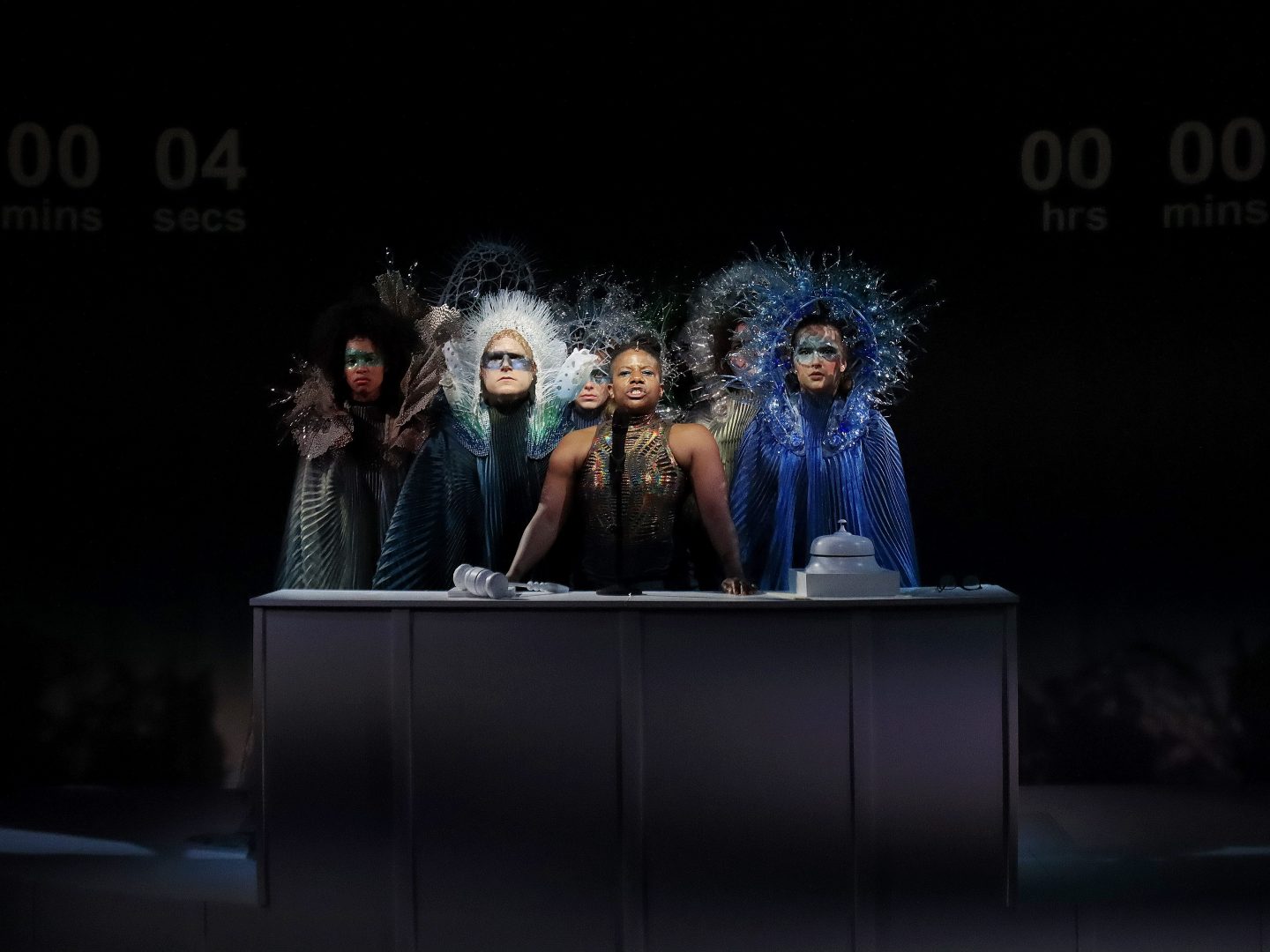 An interactive intermission features a "thermohaline rave", augmented reality seafloor structures and local collaborations with New Orleans environmental groups including Atelier de la Nature (Thursday), the Water Map New Orleans (Saturday), the New Orleans Center for the Gulf South (TBD) and Sustaining All Life (TBD).
For more info about this touring show, visit www.oceanfilibuster.com
Credits
Video: Stivo Arnoczy & Tal Yarden
Scenic: Jeff Becker, Nate Lemoine & Jian Jung
Costumes: Olivera Gajic
Lighting: Thomas Dunn
Sound: Andrew Lynch & Sxip Shirey
Production Stage Management: Lisa McGinn
Production Manager: Carly Levin
Video Supervisor & Programmer: Matthew Deinhart
Lighting Supervisor & Ensemble Leader: Evan Spigelman
Sound Engineer & Supervisor: Andrew Lynch
Animation: Rosane Chamecki, Breslin Sibley-Martin, Marina Zurkow
Augmented Reality: Agatha Park
Tour Manager & Producer: Amanda Cooper
Original Sound Design concept developed with Mikaal Sulaiman
Synopsis
Ocean Filibuster draws audiences into a surprising, intimate and theatrical relationship with the ocean. The performance is in two acts, with an extended intermission in between. ACT ONE: Mr. Majority proposes the ocean has become so dangerous it must be compressed into several manageable (and marketable) seas: he speaks and sings his case with biting political rhetoric and lyrics dripping with patriotism. When he calls his bill to a vote, the Ocean appears, begins to filibuster, and "overflows" into a multi-dimensional ensemble. INTERMISSION: The Ocean invites the audience into an interactive intermission led by the ensemble. ACT TWO: Mr. Majority continues to push his anthropocentric point of view, leading to a battle of wills between him and the Ocean. How can humans shift our thinking and transform our power structures to imagine and manifest a healthy future together?
Ocean Filibusteruses spectacle, participation and immersive performance to activate awareness and engagement in science and climate justice. The very core of the project calls for deep community engagement; embedding a local ensemble into the performance, and working with the community to create a hyper-local interactive intermission.

How it Began
Ocean Filibuster began in 2017 with a commission from the Harvard University Center for the Environment and American Repertory Theater, part of a project to bring science and environmental issues to stage. This opportunity allowed us to extend the work we began with How to Build a Forest, our 8-hour performance meditation on forests, ecosystems and human systems. We asked Ocean Scientists at Harvard what they most wanted us to convey about this vast body of water. They were quiet for a minute and then one said "Wonder?" We were hooked.
We quickly became obsessed and concerned with the Ocean as a "human enabler" especially when it came to the carbon cycle. We rely on ocean photosynthesis to create half the air that we breathe. We increasingly inhibit the ocean's ability to create this air by overloading it with carbon, but it keeps taking it, protects us from feeling the negative impact of our actions, and allows us to keep on with our destructive behavior. But how much can the Ocean take? What if the Ocean decided to start speaking out-- and spoke and spoke and spoke until it was heard?
Inspired by Wendy Davis' historic filibuster in the Texas Senate in 2013, we imagined a future global senate in a world where the Ocean has already changed the shape of many continents due to sea level rise. Mr. Majority presents a bill to protect humanity by ending the Ocean as we know it; The Ocean arrives to stand up for itself and begins to filibuster the bill.
We knew immediately that both characters would be played by one actor, exploring the intimate, interconnected human-ocean relationship. Jenn Kidwell, with their immense clowning and devising talent and huge heart and mind, was the perfect person. We also knew both characters would speak and sing their arguments and asked our long-time collaborator Sxip Shirey to join us to compose music. The rest of our fabulous design team joined once we had a draft of the show.
Ocean Filibuster at the Contemporary Arts Center, New Orleans is generously supported by the Andrew Mellon Foundation. This project is supported in part by the National Endowment for the Arts, and supported, in part, by a grant from the Louisiana Division of the Arts, Office of Cultural Development, Department of Culture, Recreation and Tourism, in cooperation with the Louisiana State Arts Council. Funding has also been provided by the National Endowment for the Arts.

Ocean Filibuster was commissioned and developed by the American Repertory Theater in a partnership with the Harvard University Center for the Environment and has received support from The New England Foundation for the Arts' National Theater Project, with lead funding from the Andrew W. Mellon Foundation and additional support from the Doris Duke Charitable Foundation, The Distracted Globe Foundation, Alternate Roots and Kickstarter Donors.

Programming and Exhibitions at the Contemporary Arts Center, New Orleans are made possible through generous support from: The Andrew Mellon Foundation; Art for Justice Fund, a sponsored project of Rockefeller Philanthropy Advisors; The Helis Foundation, the Sydney and Walda Besthoff Foundation; National Endowment for the Arts; Greater New Orleans Foundation Impact Fund; The Welch Foundation; The RosaMary Foundation; Greater New Orleans Foundation; the Louisiana Division of the Arts, Office of Cultural Development, Department of Culture, Recreation and Tourism, in cooperation with the Louisiana State Arts Council; Eugenie and Joseph Jones Family Foundation; National Performance Network; New England Foundation for the Arts; Josephine Whitney Nixon; Baton Rouge Area Foundation; Foley Family Charitable Fund; New Orleans Jazz & Heritage Foundation; Coughlin Saunders Foundation, Inc.; The Freeman-Woollam Foundation; the Poeyfarre Fund; Nurhan Gokturk; George & Milly Denegre Fund; I. William & Jane L; Marrero Land Improvement Association; Virginia Wise & Kevin Wilkins Fund; CAC President's Council members: Valerie Besthoff, Susan & Ralph Brennan, Dathel & Thomas Coleman, Robyn Dunn Schwarz & Andrew Schwarz, Aimée & Michael Siegel, Staci Rosenberg, Jane B. & Rodney Steiner, MK Wegmann & Lisa Mount, Dian & Tom Winingder, David Workman; and CAC Silver Circle members: Virginia Besthoff & Nancy Aronson, Jessica Bride & Nick Mayor, Leslie & Jonathan Fawer, John Foley, Tina Freeman & Philip Woollam, Marcy H. Monrose Curtis & Charles Curtis, Gina Monette, Greg Montgomery, Barbara & Biff Motley, Robin Rankin, Michael Schneider, Sharron Silvers, Jane & I. William Sizeler, and Gretchen & Scott R. Wheaton. We are also grateful for the generous in-kind support from The Shop at the CAC, The Domain Companies; Corporate Realty, and Selina Catahoula New Orleans; as well as our community partners: Mr. Wolf Espresso & Books; Prospect New Orleans; Voice of the Experienced; and Arts District New Orleans.