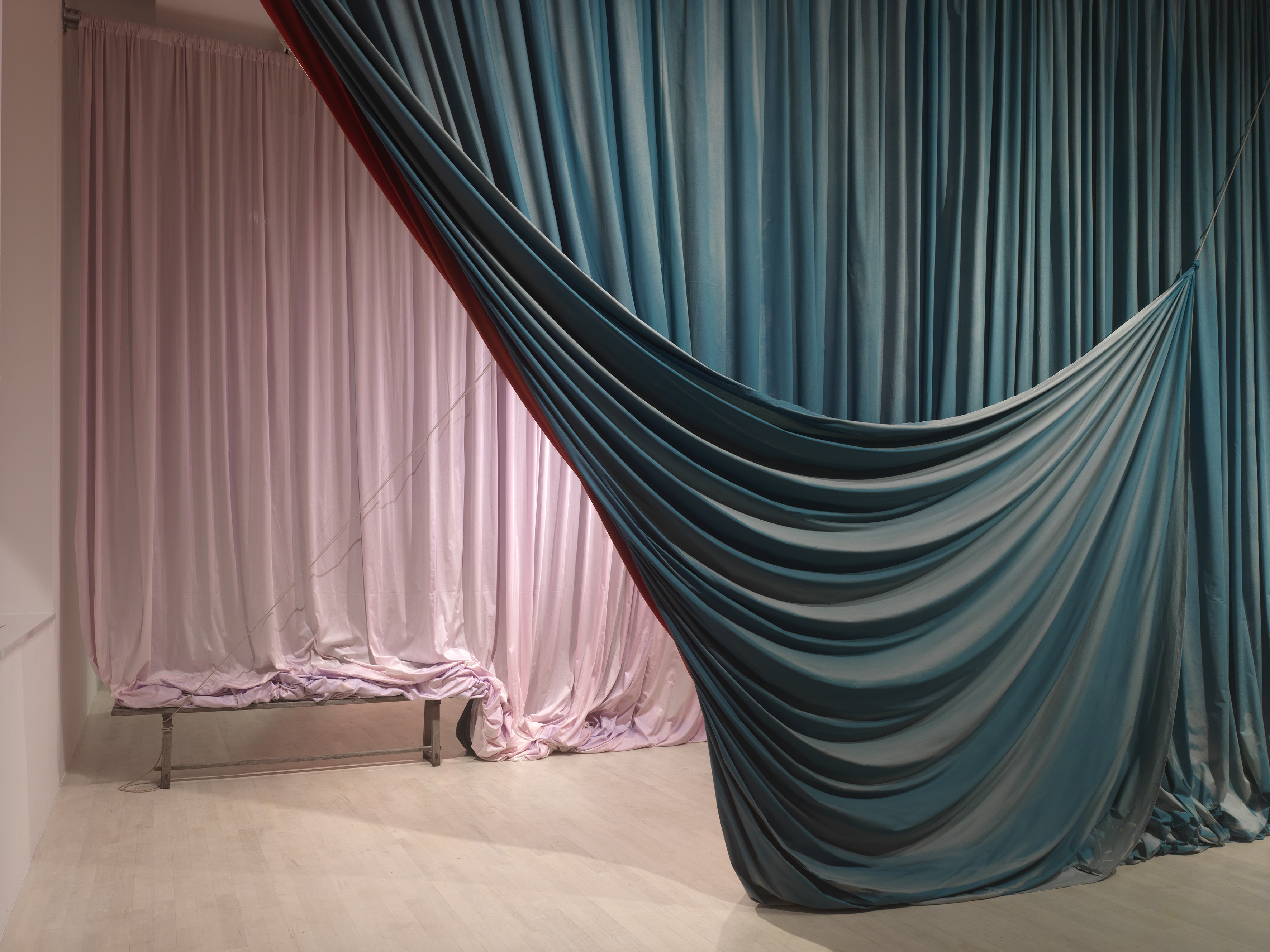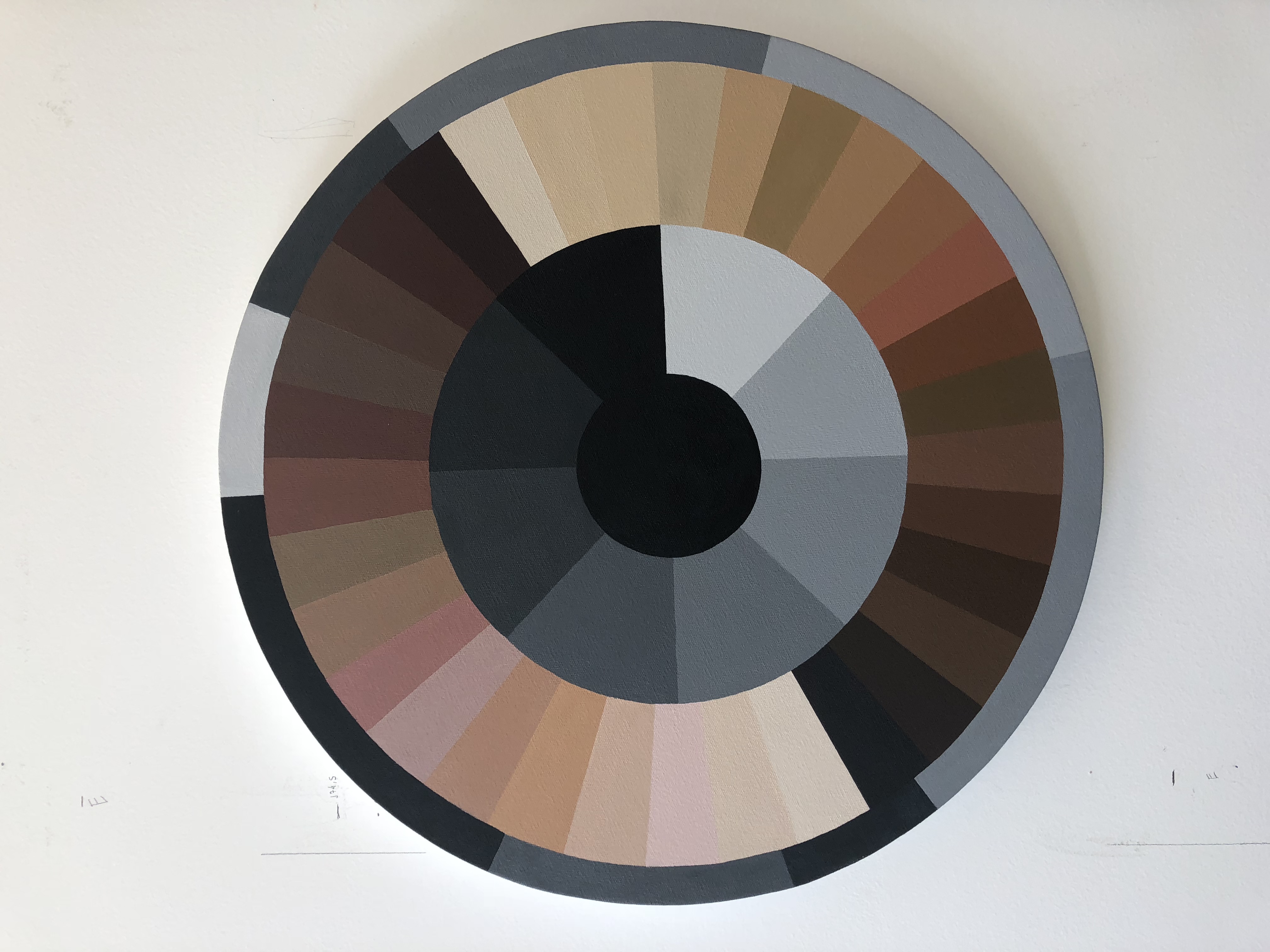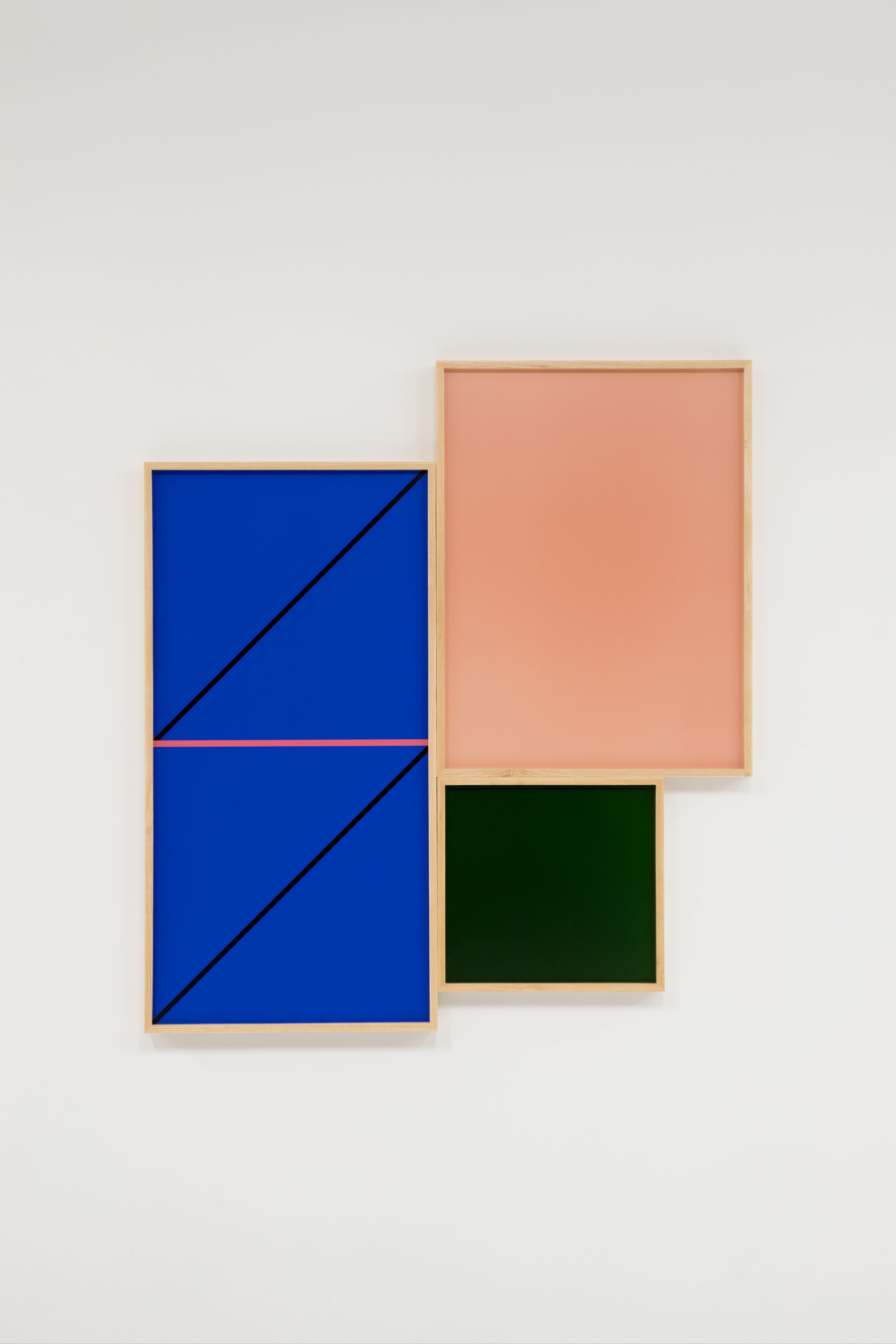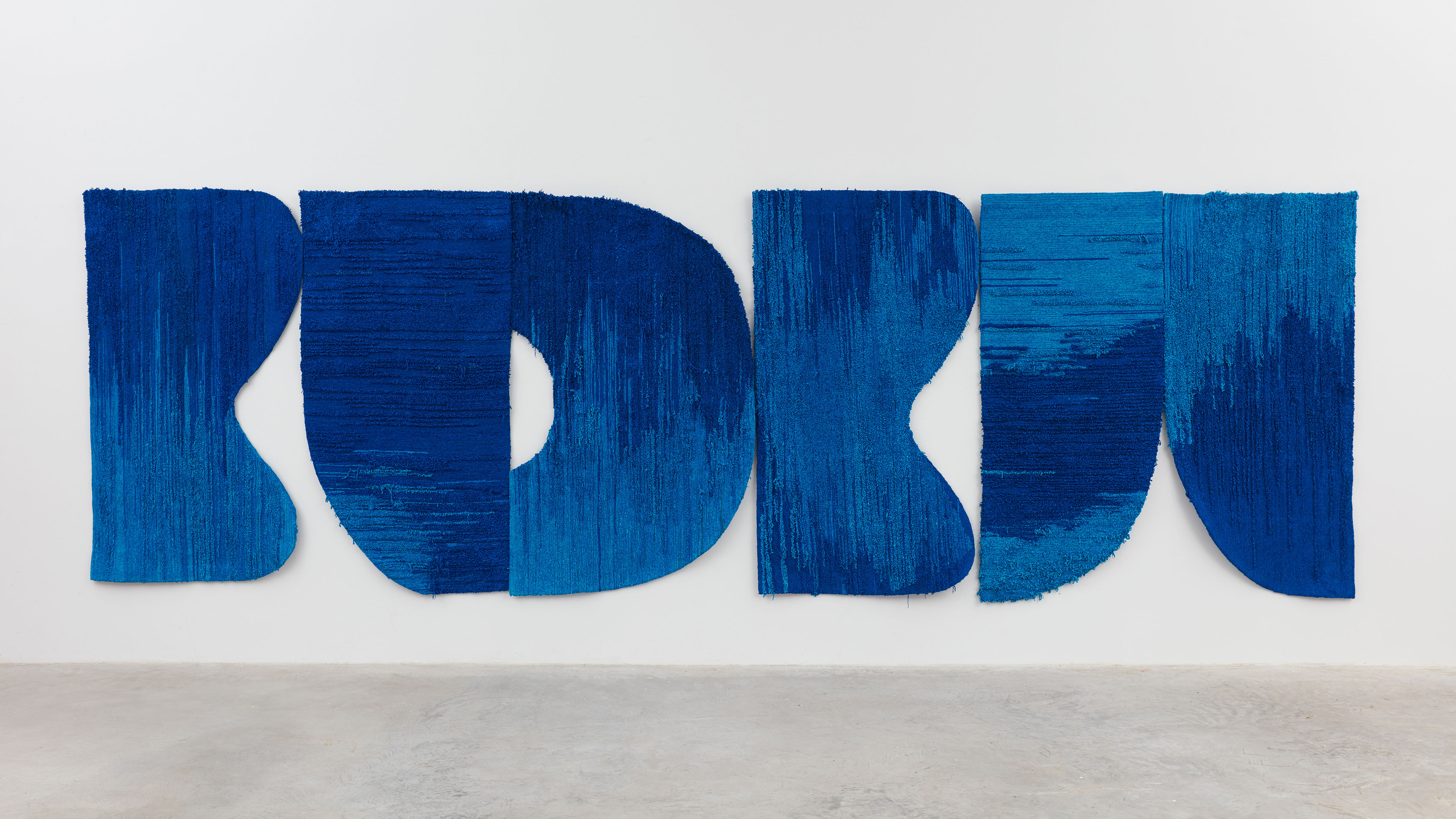 Hinge Pictures: Eight Women Artists Occupy the Third Dimension is an exhibition in eight-parts, a confrontation with the patrimony of European modernism in the practices of eight leading women artists: Sarah Crowner, Julia Dault, Leslie Hewitt, Tomashi Jackson, Erin Shirreff, Ulla von Brandenburg, Adriana Varejão, and Claudia Wieser.
Across eight successive galleries, this exhibition presents practices that evolve from the flat plane of the wall to immersive sculptural environments. Staging a performance of material history, spatial occupation, and social positioning, Hinge Pictures: Eight Women Artists Occupy the Third Dimension resuscitates abstract modernist vocabularies, marked by patriarchal and colonial histories, for use in a new feminist formalism.
Hinge Pictures: Eight Women Artists Occupy the Third Dimension takes its name from the writings of Marcel Duchamp in The Green Box, a companion piece to his masterwork The Bride Stripped Bare By Her Bachelors, Even (La Mariée mise a nu par ses célibataires, même, more commonly known as Le Grande Verre or The Large Glass). The Large Glass is a work in glass, paint, wire, and foil. In the most literal reading, it figures a nude woman, suspended above a host of ogling bachelors. In his writing, Duchamp narrates both social and physical constraint ("The Bride accepts this stripping...") and formal liberation ("discover true form...develop the principle of the hinge..."). The artists of Hinge Pictures: Eight Women Artists Occupy the Third Dimension use formal constraint--a commitment to abstraction--in a demonstration of social liberation; theirs is a knowing, deconstructed rehearsal of form and color, weighted by the errors, limits, and categorical proscriptions of transatlantic Modernism. The exhibition includes many large-scale new commissions.
Additionally, a full-color publication by the same name, co-published by Siglio Press and the CAC, New Orleans will be released in March 2019. Eight artists' books-within-the-book, the publication will serve as a parallel platform to the exhibition, affording each artist another "hinge picture," or three-dimensional field of presentation in response to Marcel Duchamp's The Green Box.
The exhibition is curated by Andrea Andersson, PhD, The Helis Foundation Chief Curator of Visual Arts at the Contemporary Arts Center, New Orleans. This artists' book is a collaboration between the Contemporary Arts Center, New Orleans and Siglio Press.
The exhibition is supported by The Helis Foundation, The Andy Warhol Foundation for the Visual Arts, Sydney & Walda Besthoff, and an anonymous gift. Major support is provided by Étant donnés Contemporary Art, a program of the French American Cultural Exchange (FACE) Foundation, and The National Endowment for the Arts.
Additional funding is provided by the Visual Arts Exhibition Fund with generous contributions from the Azby Fund, Bryan Bailey, Valerie Besthoff, Anna & Scott Dunbar, Felicity Property Co., Aimée & Mike Siegel, and anonymous donors.
This exhibition is also supported in part by a Community Arts Grant made possible by the City of New Orleans and administered by the Arts Council New Orleans, as well as by a grant from the Louisiana Division of the Arts, Office of Cultural Development, Department of Culture, Recreation and Tourism, in cooperation with the Louisiana State Arts Council. Additional support by Marianne Boesky Gallery, New York and Aspen; Gagosian; Casey Kaplan, New York; Perrotin; Pilar Corrias Gallery, London; Sikkema Jenkins, & Co., New York; and Tilton Gallery, New York.
About the Artists
JULIA DAULT (b. 1977, Toronto, Canada) creates abstract paintings and sculptures that often reveal the processes of their own making. Dault sometimes uses unusual materials such as vinyl, silk, and spandex as the support of her paintings. She first builds up multiple layers of paint, and then through a process of removal, exposes the underlying composition using industrial tools such as squeegees, combs, sponges, and foam blocks. Indicative of Post-Minimalism and Conceptual art, each painting is crafted with these tools as a way to set self-imposed rules that govern the making of the work. Many of Dault's sculptures similarly fuse the industrial with the handmade. Some employ plexiglas and Formica that she bends and rolls into shape, then tenuously attaches to the wall; others are inspired by the fretworks of colorful PEX tubing plumbers install behind walls. Their abstract compositions explore—and introduce imperfections to—vernacular industrial materials, and underscore the value of engaging with the intricate and often beautiful systems that lie just beyond any given surface.
ERIN SHIRREFF's (b. 1975, Kelowna, Canada) diverse body of work, including photography, video, and sculpture, is united by her interest in the ways we experience three-dimensional forms in an age in which our perception is almost invariably mediated by still and moving images. Her work explores the gap between objects and their representations, and the materials (and materiality) of image-making. As amalgams of analog and digital materials and processes, Shirreff's work presents as an investigation of scale, translations, and possible relationships between picture and form. The passage of time and the effects of natural and artificial light are ideas and motifs that recur in Shirreff's work and are forces intrinsic to the process of making cyanotype photographs, a recurring subject of investigation for the artist.
LESLIE HEWITT (b. 1977, New York, United States) lives and works in New York. Working with photography, sculpture, and site-specific installations, Hewitt addresses fluid notions of time. Her photographed still life compositions—comprised of political, social, and personal materials—result in multiple histories embedded in sculptural, architectural, and abstract forms. Mundane objects and structures open into complex systems of knowledge. This perceptual slippage is what attracts Hewitt to both the illusions of film (still and moving photography) and the undeniable presence of physical objects (sculptures). Exploring this as an artist rather than as a historiographer, Hewitt draws parallels between the formal appearance of things and their significance to a collective sense of history and political consciousness in contemporary art and everyday life.
ULLA VON BRANDENBURG's (b. 1974, Karlsruhe, Germany) practice builds through films, performances, installations, objects, music, paintings and drawings. With great interest in popular ceremonies and social ritual, Brandenburg creates images which gradually distance themselves from reality and shift our expectations. Her practice draws from her research of abstraction, collage, colorimetry, psychoanalysis, bodily and costume patterns, and human gesture. Her immersive and labyrinthine installations made of fabric, her upside-down architectures, and her workable wooden structures are designed as watching apparatuses for her films. Ulla von Brandenburg considers the viewer as an actor in the work, someone who takes part in its creation.
CLAUDIA WIESER (b. 1973, Freilassing, Germany) is known for her modernist-inspired geometric constructions. Influenced by the work of Wassily Kandinsky and Paul Klee, artists who embraced spirituality in their aesthetic process, Wieser broadens their ideals to consider abstractions's coexistence with physiological experience. Her hand is readily evident in a multimedia process that is both meticulous and delicate.Through an early apprenticeship as a blacksmith at Bergmeister Kunstschmiede, Wieser honed her understanding of art and the object, the aesthetic and the functional. This studied craft informs her approach to the technical drafting of her multi-faceted mirrors, hand-painted and patterned ceramics, and carved wooden sculpture.
TOMASHI JACKSON (b. 1980, Houston, United States) is a multi-disciplinary artist who uses the formal properties of color perception as an aesthetic strategy to investigate the value of human life in public space. As a painter studying color theory, Jackson observed that the language used to describe the formal interaction of colors echoed the language found in United States public policy documents and court proceedings regarding issues of public concern—including education, transportation, and housing. Jackson's interrogation of shared languages of color, in reference to chromatic or social phenomena, creates a narrative framework from which she constructs her own language of abstraction for her videos, paintings, collages, and photographs.
SARAH CROWNER's (b. 1974, Philadelphia, United States) diverse practice ranges from paintings and ceramics to sculpture and theater curtains. Her bold and colorful paintings and tile works incorporate forms found in architecture, nature, and in the history of twentieth-century art and design. Her stitched paintings are created by using an industrial sewing machine to sew painted and raw irregular panels of canvas together, simultaneously revealing the painting's composition and construction. Sections are painted in saturated primary colors to imply a form, a presence, a possibility. The stitched seams remain visible, like plant veins or arteries, reflecting her interest in systems and patterns, production and reproduction, in culture and nature. In recent years Crowner has exhibited her paintings in conjunction with ceramic tile murals and floor installations on elevated platforms, creating a bespoke, intimate environment and stage. Crowner embraces the idea of paintings as object and her works embody the experience of architecture and space both within themselves and their display. Her work draws attention to the surrounding context, from the painted walls, brick patterns, concrete floors, or plate glass windows. These dynamic three-dimensional abstractions seductively speak to connection, opposition, separation, hierarchy, transition, and assimilation.
In paintings, sculpture, photography, and video installations, ADRIANA VAREJÃO (b. 1964, Rio de Janeiro, Brazil) presents incisive reflections on the multiplex nature of Brazilian history, memory, and culture. Reflected in her hybridization of mediums in manifold forms—including sculptural paintings and floor-based sculptural works—is the syncretism immanent to Brazil's postcolonial identity. Varejão draws upon aesthetic traditions and a visual legacy resulting from transnational exchange, imperial and otherwise, to create a confluence of forms that she conceives as a metaphor for the modern world.