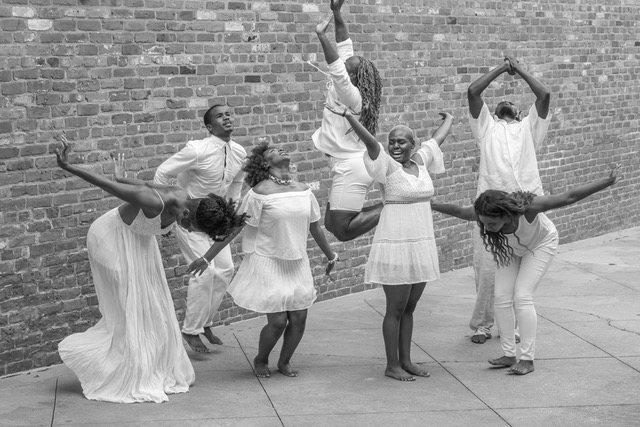 A Choreographic Showcase Presented by KM Dance Project in Association with the Contemporary Arts Center, New Orleans
KM Dance Project (KMDP) celebrates five years presenting an evening of dance featuring the works of five emerging New Orleans choreographers – Catherine Caldwell, Jeremy Guyton, Milli Brown, Kristal Jones and Kesha McKey. The bodies of work presented in this production will examine legacy, identity, socialization, unity and friction inside the Black family dynamic; the joyous self discovery of family oral history through movement; the impact of residual emotional trauma as a result of institutionalized and internalized racism on Black love; a reflection through the lens of a gay Black man on the state of global affairs; a journey of self discovery to find your own authentic voice; and the removal of layers representing the traits and habits from our elders we have learned and carry.
Artists performing in this production include: Aminisha Ferdinand, Catherine Caldwell, Derwin May Jr., Iman Marshall, Jeremy Guyton, Kesha McKey, Kristal Jones, Madyson Barbain, Michaela Morris, Milli Brown, Randall Rosenburg, Teddric Matthews, Terrian Seiber, Tess Losada and the KMDP Youth Performance Ensemble.
Adult tickets are $20.00 in advance / $25.00 at the door (students, seniors and CACNO members $15.00). Tickets may be purchased here on our website, by calling our ticket office at 504.528.3800, or at the door.
This program is supported in part by a Community Arts Grant made possible by the City of New Orleans, by a grant from the Louisiana Division of the Arts, Office of Cultural Development, Department of Culture, Recreation and Tourism in cooperation with the Louisiana State Arts Council, as well as generous support and assistance from the Contemporary Arts Center, New Orleans and Dancing Grounds.