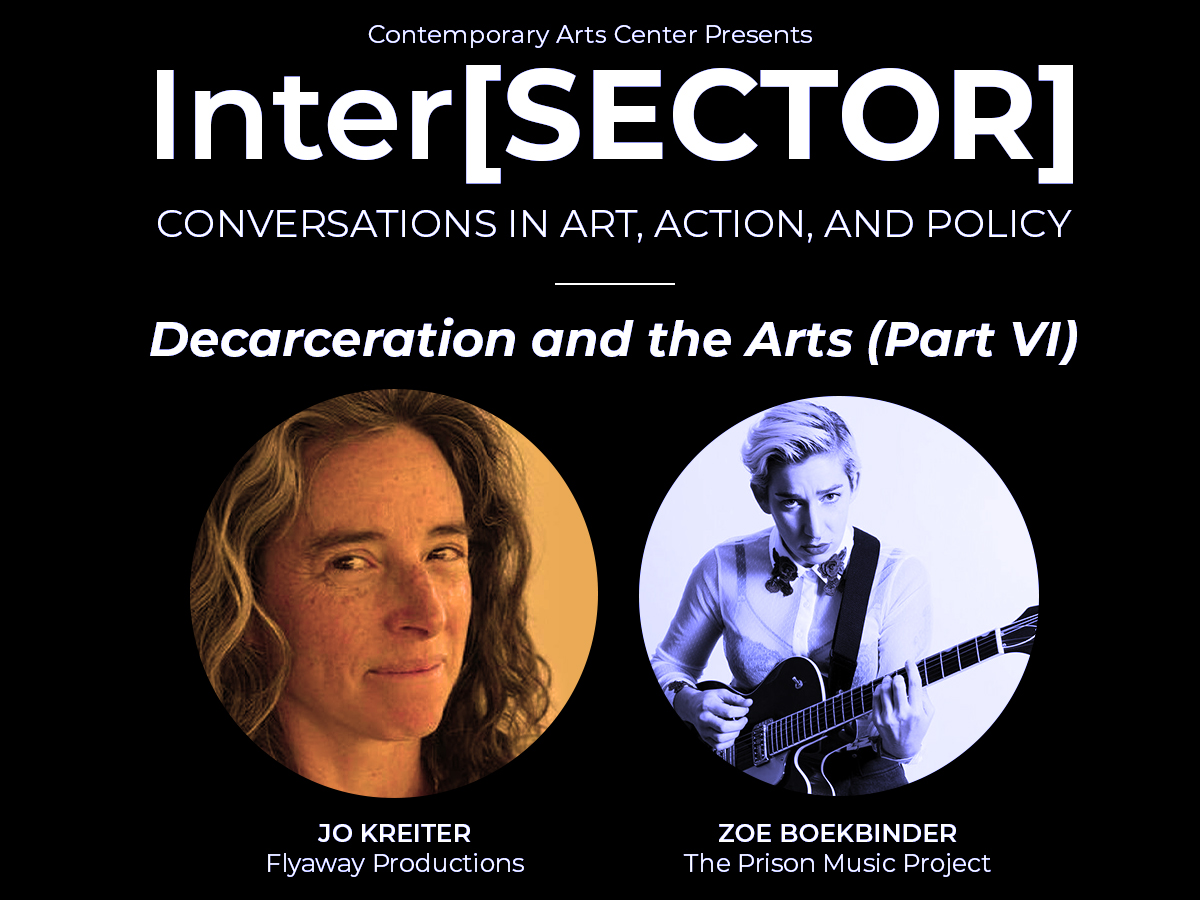 The CAC is excited to present Inter[SECTOR], online conversations bringing together artists, activists, and policy-makers to discuss critical issues facing society today.
Decarceration and the Arts is an ongoing conversation series with San Francisco-based artist Jo Kreiter, Artist Director of Flyaway Productions and creator of the "The Wait Room", a spectacular aerial work that depicts the trauma and challenges faced by families with incarcerated loved ones, which will be presented at the CAC in Spring 2021. In an effort to build community dialogue ahead of the performance, Jo engages with local and national artists and activists on the front lines of ending mass incarceration.
Decarceration and the Arts (Part VI) with Jo Kreiter and Zoe Boekbinder
Wednesday, July 22, 5 pm CDT on Facebook Live
Join us for the next episode of the CAC's Decarceration and the Arts conversation series on Facebook Live! Jo Kreiter, Artistic Director of Flyaway Productions, will be joined by New Orleans musician Zoe Boekbinder, creator of the Prison Music Project, to discuss how the arts can contribute to the humanization and abolition of incarcerated peoples, given the systemic racism that pervades every aspect our nation's criminal justice system.
Check out other episodes in our "Decarceration and the Arts" series:
Part I with Jo Kreiter and Alanah Odoms
Part II with Jo Kreiter and Ivy Mathis
Part III with Jo Kreiter, Ausettua Amor Amenkum, and Kathy Randels
Part IV with Jo Kreiter, Maryam Henderson-Uloho, and Kathy Randels
Part V with Jo Kreiter, Felicia Gomez, and Fox and Rob Richardson
ABOUT JO KREITER
In 1996, Jo Kreiter founded Flyaway Productions, an apparatus-based dance company that advances social issues and explores the range and power of female physicality. Under Kreiter's artistic direction, Flyaway creates dances on architectural and fabricated steel objects raised off the ground, with dancers suspended from two to 100 feet in the air. Kreiter/Flyaway are recipients of four Isadora Duncan Dance Awards, as well as awards from institutions like the Center for Cultural Innovation, the California Arts Council and the Creative Work Fund. In the book Moving Sites: Investigating Site-Specific Dance Performances (Routledge, 2015), Kreiter's work is referenced as an example of "the politically-driven work of the experienced and prolific site dance artists." Her work, "The Wait Room," is a dance performance installation that exposes the physical, psychic, and emotional burden of incarceration for women with imprisoned loved ones. Via a series of custom-made chairs suspended by a counterweight system, the project invokes the balancing act women have to maintain when stripped of emotional and economic support from their partners and family. Learn more at flyawayproductions.com
ABOUT ZOE BOEKBINDER
Nomadic at heart and a creator at their core, Zoe Boekbinder (they/them) was born on a farm into a family of four children. While music wasn't very present in their upbringing, Boekbinder recalls some of their first memories as making up songs. For them, music is as natural and as necessary as breath, and the way they engage as an activist. Boekbinder was raised, in part, by their grandfather — a Holocaust survivor. Having survived the horrific, prejudiced violence of his past, he instilled in Boekbinder a deep belief in justice, equality, and anti-racism. Songwriting has become their resistance language, a way to lift up the voices and stories of people who are marginalized by capitalism. Boekbinder is one of the founding creators of the Prison Music Project and the album, Long Time Gone. Using their music as a platform to bring light to stories and voices otherwise unheard, lost or forgotten, Boekbinder continues their empowering work from their hometown in New Orleans, LA, performing both as a solo artist and in collaborations with artists including Ani DiFranco, Amanda Palmer, Jason Webley, Neil Gaiman, Mal Blum, and Mirah. Learn more at zoeboekbinder.com.
ABOUT THE PRISON MUSIC PROJECT
In May 2010, Zoe Boekbinder paid their first visit to New Folsom Prison, a maximum-security penitentiary outside Sacramento, California. They volunteered in New Folsom for four years, until the end of 2014, playing concerts and teaching workshops in songwriting.
Over the years, a lot of poems, raps and songs were created and shared by the incarcerated men who participated in the workshops. Some of the writers asked Zoe to collaborate with them and Zoe found themself contributing a melodic hook to a rap or setting some words to music. One of the participants, Ken Blackburn, was already an accomplished songwriter and offered up to the group finished songs to sing. A body of work developed that was as diverse as the people who contributed to it. The songs — overflowing with pain and regret, longing, perseverance and hope — form a collective snapshot of the hidden face of America: the two million people living inside its prison systems.