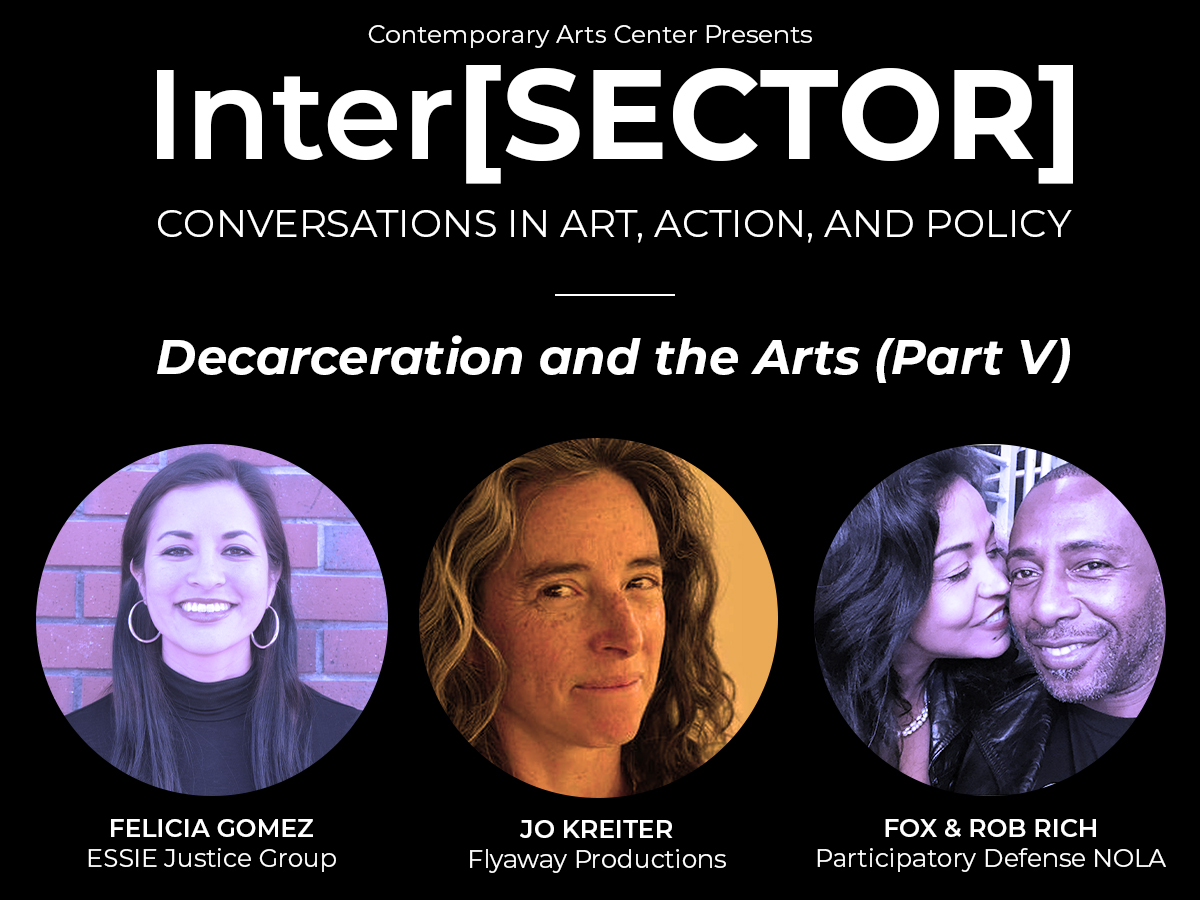 The CAC is excited to present Inter[SECTOR], online conversations bringing together artists, activists, and policy-makers to discuss critical issues facing society today.
Decarceration and the Arts is an ongoing conversation series with San Francisco-based artist Jo Kreiter, Artist Director of Flyaway Productions and creator of the "The Wait Room", a spectacular aerial work that depicts the trauma and challenges faced by families with incarcerated loved ones, which will be presented at the CAC in Spring 2021. In an effort to build community dialogue ahead of the performance, Jo engages with local and national artists and activists on the front lines of ending mass incarceration.
Decarceration and the Arts (Part V) with Jo Kreiter, Felicia Gomez, and Fox & Rob Rich
Wednesday, July 8, 5 pm CDT on Facebook Live
Join us for the next episode of the CAC's Decarceration and the Arts conversation series on Facebook Live! Jo Kreiter, Artistic Director of Flyaway Productions, will be joined by Felicia Gomez, Policy Associate with ESSIE Justice Group, and Fox & Rob Rich, formerly-incarcerated couple and activists with Participatory Defense NOLA. Jo, Felicia, Fox, and Rob will discuss the movements for change sweeping the country, how the abuses of mass incarceration are a key part of systemic racism, and the role that art can play in the fight against injustice.
Check out other episodes in our "Decarceration and the Arts" series:
Part I with Jo Kreiter and Alanah Odoms
Part II with Jo Kreiter and Ivy Mathis
Part III with Jo Kreiter, Ausettua Amor Amenkum, and Kathy Randels
Part IV with Jo Kreiter, Maryam Henderson-Uloho, and Kathy Randels
ABOUT JO KREITER
In 1996, Jo Kreiter founded Flyaway Productions, an apparatus-based dance company that advances social issues and explores the range and power of female physicality. Under Kreiter's artistic direction, Flyaway creates dances on architectural and fabricated steel objects raised off the ground, with dancers suspended from two to 100 feet in the air. Kreiter/Flyaway are recipients of four Isadora Duncan Dance Awards, as well as awards from institutions like the Center for Cultural Innovation, the California Arts Council and the Creative Work Fund. In the book Moving Sites: Investigating Site-Specific Dance Performances (Routledge, 2015), Kreiter's work is referenced as an example of "the politically-driven work of the experienced and prolific site dance artists." Her work, "The Wait Room," is a dance performance installation that exposes the physical, psychic, and emotional burden of incarceration for women with imprisoned loved ones. Via a series of custom-made chairs suspended by a counterweight system, the project invokes the balancing act women have to maintain when stripped of emotional and economic support from their partners and family. Learn more at flyawayproductions.com
ABOUT FOX AND ROB RICHARDSON
Affectionately known among their peers as FoxandRob, Sibil Fox and Robert Richardson are a popular New Orleans based couple who endured and survived 21-years as an incarcerated family and are the executive producers and host of A Conversation with FoxandRob, a game changing commentary on YouTube.
In 1997 Rob Rich, a first offender in Louisiana, was sentenced to 61-years as a result of overzealous prosecution. Not to be denied, after her release from prison in 2002, Fox Rich led a valiant charge to regain her husband's freedom. In June 2018 Governor John Bel Edwards granted clemency to Rob, 90 days later he was released. FoxandRob has since committed to advocate for meaningful legislation that will give deserving offenders serving life without parole-parole consideration. Make no mistake about it, this power couple are using their mess-turn-message to bring greater awareness to the systemic issues of mass incarceration, while promoting civic engagement.
The founders of Rich Family Ministries, The Rich's, have committed their lives and their resources to not only bringing greater awareness, but also providing sustainable solutions to family's suffering from the hardships associated with crime and punishment.
The Rich family hit the ground running and has shared their testimony with audiences far and wide. The family's message focuses on the two greatest challenges facing the black family since Jim Crow; mass incarceration and marital instability. Not only are they empowering others with their words, they are also allowing their experience to serve as a demonstration that love is possible for all who seek it.
This dynamic duo is the subject of the highly anticipated documentary, TIME, based on their two decade long journey to justice. FoxandRob are using their platform to speak truth to power and are leading voices in the movement to end mass incarceration. They are the proud parents of six sons.
About Participatory Defense NOLA
The National Participatory Defense Network is made of hubs around the country who uphold the principles of participatory defense, have been trained in the principles and tools by Silicon Valley De-Bug's National Participatory Defense training team, and regularly contribute as members of the Network. We all hold meetings in their cities to support individuals facing charges in the system and their families, and organize campaigns to transform the criminal justice system. We also build together to learn from each other, share common strategies, and develop a shared vision for our communities. Learn more at participatorydefense.org
ABOUT FELICIA GOMEZ
Felicia Gomez is a Senior Policy Associate for ESSIE Justice Group, a nonprofit organization of women with incarcerated loved ones taking on the rampant injustices created by mass incarceration. Their award-winning Healing to Advocacy Model brings women together to heal, build collective power, and drive social change. We are building a membership of fierce advocates for race and gender justice — including Black and Latinx women, formerly and currently incarcerated women, transgender women, and gender non-conforming people. Learn more at essiejusticegroup.org.