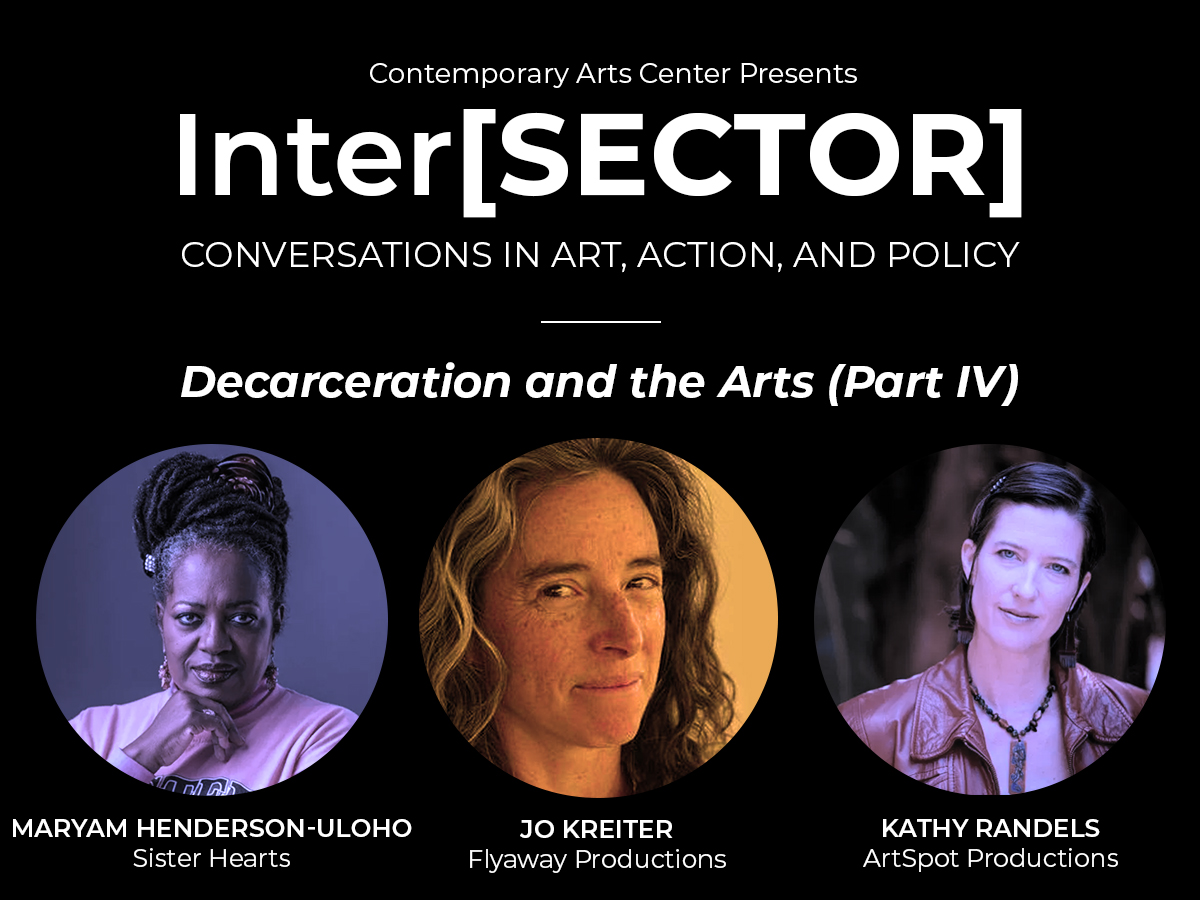 The CAC is excited to present Inter[SECTOR], online conversations bringing together artists, activists, and policy-makers to discuss critical issues facing society today.
Inter[SECTOR] begins with Decarceration and the Arts, a four-part series with San Francisco-based artist Jo Kreiter, Artist Director of Flyaway Productions and creator of the "The Wait Room", a spectacular aerial work that depicts the trauma and challenges faced by incarcerated people and their families, that will be presented at the CAC in Spring 2021. In an effort to build community dialogue, Jo will engage with local activists and policy makers on the front lines of ending mass incarceration.
Decarceration and the Arts Part IV with Jo Kreiter, Maryam Henderson-Uloho, and Kathy Randels
Wednesday, June 24, 5 pm CDT on Facebook Live
Join us for the next installment of Decarceration and the Arts on Facebook Live! Jo Kreiter, Artistic Director of Flyaway Productions, will be joined by Maryam Henderson-Uloho, Founder and CEO of Sister Hearts, and Kathy Randels, Artistic Director of ArtSpot Productions. Jo, Maryam, and Kathy will discuss the vital role that Sister Hearts thrift store plays in the decarceration process by providing a support network and healing opportunities for formerly-incarcerated people returning to society.
Check out other episodes in our "Decarceration and the Arts" series:
Decarceration in the Arts Part I with Jo Kreiter and Alanah Odoms
Decarceration in the Arts Part II with Jo Kreiter and Ivy Mathis
Decarceration in the Arts Part III with Jo Kreiter, Ausettua Amor Amenkum, and Kathy Randels
ABOUT JO KREITER
In 1996, Jo Kreiter founded Flyaway Productions, an apparatus-based dance company that advances social issues and explores the range and power of female physicality. Under Kreiter's artistic direction, Flyaway creates dances on architectural and fabricated steel objects raised off the ground, with dancers suspended from two to 100 feet in the air. Kreiter/Flyaway are recipients of four Isadora Duncan Dance Awards, as well as awards from institutions like the Center for Cultural Innovation, the California Arts Council and the Creative Work Fund. In the book Moving Sites: Investigating Site-Specific Dance Performances (Routledge, 2015), Kreiter's work is referenced as an example of "the politically-driven work of the experienced and prolific site dance artists." Her work, "The Wait Room," is a dance performance installation that exposes the physical, psychic, and emotional burden of incarceration for women with imprisoned loved ones. Via a series of custom-made chairs suspended by a counterweight system, the project invokes the balancing act women have to maintain when stripped of emotional and economic support from their partners and family. Learn more at flyawayproductions.com
ABOUT MARYAM HENDERSON-ULOHO
Maryam Henderson-Uloho, founder and owner of Sister Hearts thrift store in Arabi, Louisiana, in her own words:
"Sister Hearts is a thrift store and a housing facility for ex-offenders to transition back into society. It's a bridge from incarceration to society. Because prison doesn't allow inmates to transition, they just release them. It takes time to adjust back to society. I had a 25 year sentence for obstruction of justice. I did 13 years. Out of that 13 years, over half my time was spent in solitary confinement. One time, when I was in solitary confinement, the guard saw trash in my garbage can. She yelled at me. She was more concerned about the trash in the garbage can than she was about me as a human being, and I thought, "Where is the treasure in me?" When I was in prison, I met a lot of wonderful women. Those women were with me when I was lonely, when I was hurting, when I was frustrated. Those women gave me comfort and I call those women my Sister Hearts. When I got out of prison, they wouldn't allow me to open a bank account. I could not rent an apartment. When you would tell anybody that you've been to prison, you're not gonna work. So I had to start my own business. Ex-offenders have been discarded by society. Sister Hearts is a place where society discards unwanted items, too. So we relate to that trash. We're both getting second chances. We are helping people learn how to think again. I'll pick a section of the store and I'll have one of the women reorganize it, set the prices, help the customers. And so they learn what makes all this work. And they start to think about their own value. As ex-offenders, we need that. Every weekend the women get stipends. Each person gets their own little envelope and they are so excited. They worked for this money. They feel like they have done something. "Having my own business allows me to show the world how I truly feel. Whatever energy is going on inside of me, I can release it in my own business." Ex-offenders are excellent entrepreneurs. We know how to come up from the trenches. We know how to make something out of nothing. We know how to take a dime and make it a dollar. We're not depending on society to rehabilitate us. We have taken the reins to rehabilitate ourselves. We feel empowered. We don't feel helpless and powerless anymore. I want all ex-offenders to know they matter. I want them to know that just because they've committed a crime they're no less of a human being. When I was in prison, I set goals for myself. Within three years, I had accomplished every one of my goals. And now I have to set new goals." Learn more on the Sister Hearts website, here
ABOUT KATHY RANDELS
Kathy Randels is a native New Orleanian, a theatre artist/educator, and the Artistic Director of ArtSpot Productions. She studied, lived and worked in Chicago from 1987-1994, receiving a Bachelor of Science in Performance Studies in 1991 from Northwestern University. Upon returning to New Orleans in January 1995, she founded ArtSpot Productions. A performance artist who writes and produces her own work, Randels has performed her renowned one-woman show Rage Within/Without nationally and internationally since 1991. She founded the Drama Club at the Louisiana Correctional Institute for Women in 1996 with funding from the National Endowment for the Arts (NEA). Learn more at artspotproductions.org