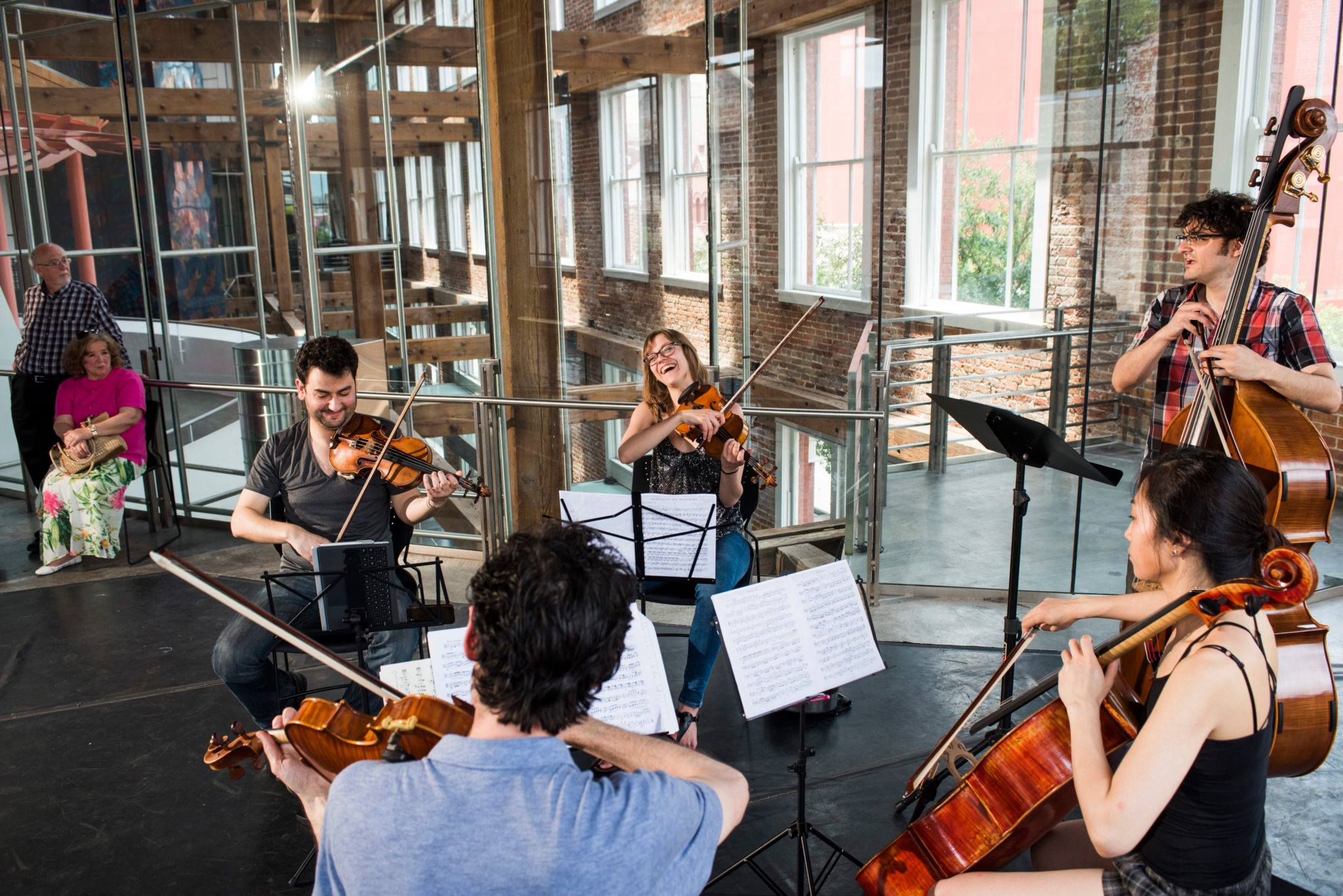 Birdfoot Festival Returns to the CAC!
Birdfoot Festival, New Orleans' annual festival dedicated to classical music, will bring the wonderful sound of chamber music back to the the CAC this month! Check out the full lineup of Birdfoot events at the CAC, below.
Concert - Let There Be Night: Friday, May 31
On Friday, May 31 at 8 pm, the CAC and Birdfoot will present Let There Be Night, a concert featuring music by Bach, Gesualdo, Haas, and more. At 7 pm before the concert, Birdfoot will host an Introduction to the Music by renowned speaker and presenter Patrick Castillo.
Program:
J.S. Bach arranged W.A. Mozart: Adagio & Fugue in D minor, K. 404
Sean Harold: Nachtlied
J.S. Bach: Cantata 54 —Widerstehe doch der Sünde
Carlo Gesualdo: Feria Quinta from the Tenebrae Responsories for Maundy Thursday, Eram quasi Agnus Innocens
Georg Friedrich Haas: String Quartet No. 3, In iij. Noct.
Program Notes:
Surely you've had them: late-night existential conversations, sleepless meditations, monsters under the bed that disappear with the light of dawn. Darkness and night have long been playgrounds for the imagination and metaphors for the unknown and unknowable. For J.S. Bach, music and text come together to re-enact and glorify spiritual mystery, while for contemporary composer Georg Friedrich Haas, mystery is revealed in the hidden spectrums of sound. Dive into the deep end for a program of music that reaches beyond. Please note: The second half of the concert will be performed entirely in the dark!
Tickets are $25 General Admission, $20 for CAC Members, and $15 for students (with valid student ID). Purchase Tickets >
Open Rehearsals - Birdfoot at the CAC: May 28 - 30
May 28 - 30 the CAC will host three open rehearsals featuring Birdfoot Festival musicians in the CAC's blackbox theater, which are free and open to the public! Mark your calendar via Birdfoot's Facebook event, here.
Rehearsal Schedule:
Tuesday, May 28: 10 am
Wednesday, May 29: 11 am
Thursday, May 30: 2 pm
Birdfoot Backstage - Schubert's "Death and the Maiden:" Thursday, May 30
On Thursday, May 30 at 7 pm, join WWNO and Birdfoot Festival for Birdfoot Backstage: Schubert's Death and the Maiden, an interactive exploration of Schubert's "Death and the Maiden" Quartet. Get inside the music alongside the musicians, and then come hear the piece in its entirety during Birdfoot's Season Finale on Saturday, June 1. Admission is free and open to the public. Mark your calendar via Birdfoot's Facebook event, here.