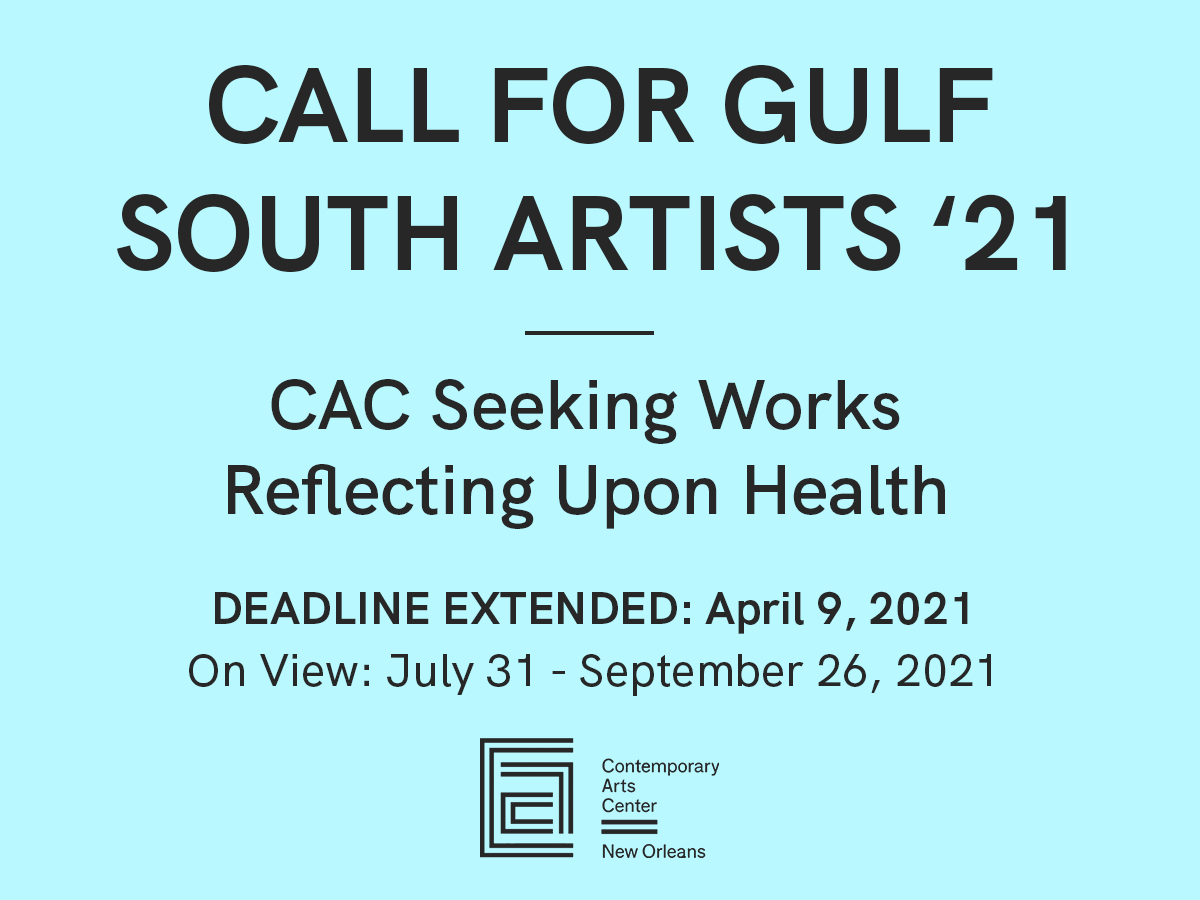 (New Orleans, LA - February 24, 2021): The Contemporary Arts Center (CAC) New Orleans announced today its annual Gulf South Open Call inviting artists to submit artworks that reflect on issues of health.
Curated by Dr. David Robinson-Morris, Regional Director of Diversity and Inclusion at Ochsner Health System, and founder of Xavier University's Center for Equity, Justice, and the Human Spirit, the CAC's Gulf South exhibition will feature multimedia works by artists from across the region and will explore conceptions of public and community health, medicalization, (dis)/ability, hospitalization, and health (in)equity.
Visual artists who currently live and/or work in the Gulf South states of LA, TX, AL, MS, and FL may apply from February 24 through April 9, 2021. The exhibition will be on view at the Contemporary Arts Center (located at 900 Camp Street) from July 31 through September 26, 2021. For submission guidelines, important dates, and to submit, please visit cacno.org/opencall2021.
The Gulf South Open Call exhibition is part of Inter[SECTOR], the CAC's three-year program focused on the presentation of multidisciplinary artworks that explore the intersections of art and social issues, specifically decarceration, health, and environment. During the 2021-2022 season, a number of performances and exhibitions will focus on the broad issues of health equity, community health, health technology and disparities.
"In a spirit of exploration, the CAC invites artists living and/or working in the Gulf South, who through their work seek to make sense of health, wholeness, medicalization, the temporality of physical humanness, and what it means to be a human being under a medico-political gaze," states curator Dr. Robinson-Morris.
CAC Executive Director George Scheer adds, "The CAC's Inter[SECTOR] programs center artists and their artistic practice amidst social issues defining our city and region. As we navigate this pandemic it's impact cannot be disassociated from the myriad health disparities that determine how we live in community. With this opportunity we seek artists who can help us make sense of our health and our humanity."
About the Exhibition
The World Health Organization defines 'health' as a state of complete physical, mental and social well-being and not merely the absence of disease or infirmity. And yet, the human condition is rife with moments of physical and metaphysical dis-ease, infirmities that seem to divert human beings from their paths of becoming. Often measured by the lack thereof, health more precisely is that spectrum of deviation from a mean that puts our well-being at greater or lesser risk. However, if the human body exists as a resource, reserve, and reservoir of well-being, then the concept of health lies well beyond the individual to encompass a community health, a site where governmental forces, collective, and individual agency orient the standards of who or what is healthy.
The very existence of a World Health Organization, tending to the well-being of a global population, evokes what Michel Foucault describes as 'biopower,' an intersection of government policy and human well-being that assumes power over individuals and populations to determine who lives and who dies, who thrives and who strives. Simply compare mortality rates to household income and geography and the effects of social and government power over life becomes abundantly apparent. Health disparities in this sense are as much about comorbidity in a population as the acute use of government power to subject and control populations to an incomplete state of well-being.
Whether through catharsis or biopolitical resistance, art has long intertwined with health. Egon Schiele painted himself, his wife, and their unborn child, before all three succumbed to the Spanish Flu. AIDS Coalition to Unleash Power (ACT UP) together with arts collective Gran Fury and Visual AIDS demanded national visibility and political action to fight AIDS, inextricably linking art, activism, and public health. As we face down another pandemic and confront the myriad health disparities that determine how we live and who will die, we seek artists who are thinking with and through their craft to make sense of our modern dis-ease, conceptions of health, and health as an apparatus of power and control.
We are seeking artwork across media from artists that explore health, healthcare, medicalized bodies, (dis)/ability, hospitals and hospitalization; health (in)equity and disparities, health policy and public health, indigenized health, sickness, grief, necropolitics, death, pain, trauma, mental health, patient as performativity, and health as transcorporeality.
This exhibition is organized and presented by the Contemporary Arts Center, New Orleans. In addition to the The Andrew W. Mellon Foundation and The Andy Warhol Foundation, the Inter[SECTOR] series is supported by the New England Foundation for the Arts' National Dance Project (with lead funding from Doris Duke Charitable Foundation and The Andrew Mellon Foundation). Support for this exhibition is also provided by Sydney & Walda Besthoff, The Helis Foundation, and the Welch Family Foundation. This exhibition is also supported by the City of New Orleans through a Community Arts Grant, as well as by a grant from the Louisiana Division of the Arts, Office of Cultural Development, Department of Culture, Recreation and Tourism, in cooperation with the Louisiana State Arts Council.
Media Resources:
Promo images and submission guidelines
###
About the CAC
The CAC is a multidisciplinary arts center that is dedicated to the presentation, production, and promotion of the art of our time. The CAC is a cultural leader. As such, it organizes, presents, and tours curated exhibitions, performances and programs by local, regional, national, and international artists. It demonstrates proactive local and regional leadership by educating children and adults, cultivating and growing audiences, and initiating and encouraging collaboration among diverse artists, institutions, communities, and supporters. Museum admission is free on Sundays for Louisiana residents, courtesy of The Helis Foundation. Children & Students through Grade 12 and under receive free admission courtesy of The Helis Foundation. The CAC is located at 900 Camp Street, 504 528-3805. For more information about CAC and to sign up for updates, visit www.cacno.org.
Media Contact:
Laura B. Tennyson
Associate Director of Communications
Contemporary Arts Center
(504) 319-9943 | LTennyson@cacno.org
900 Camp Street, New Orleans, LA 70117