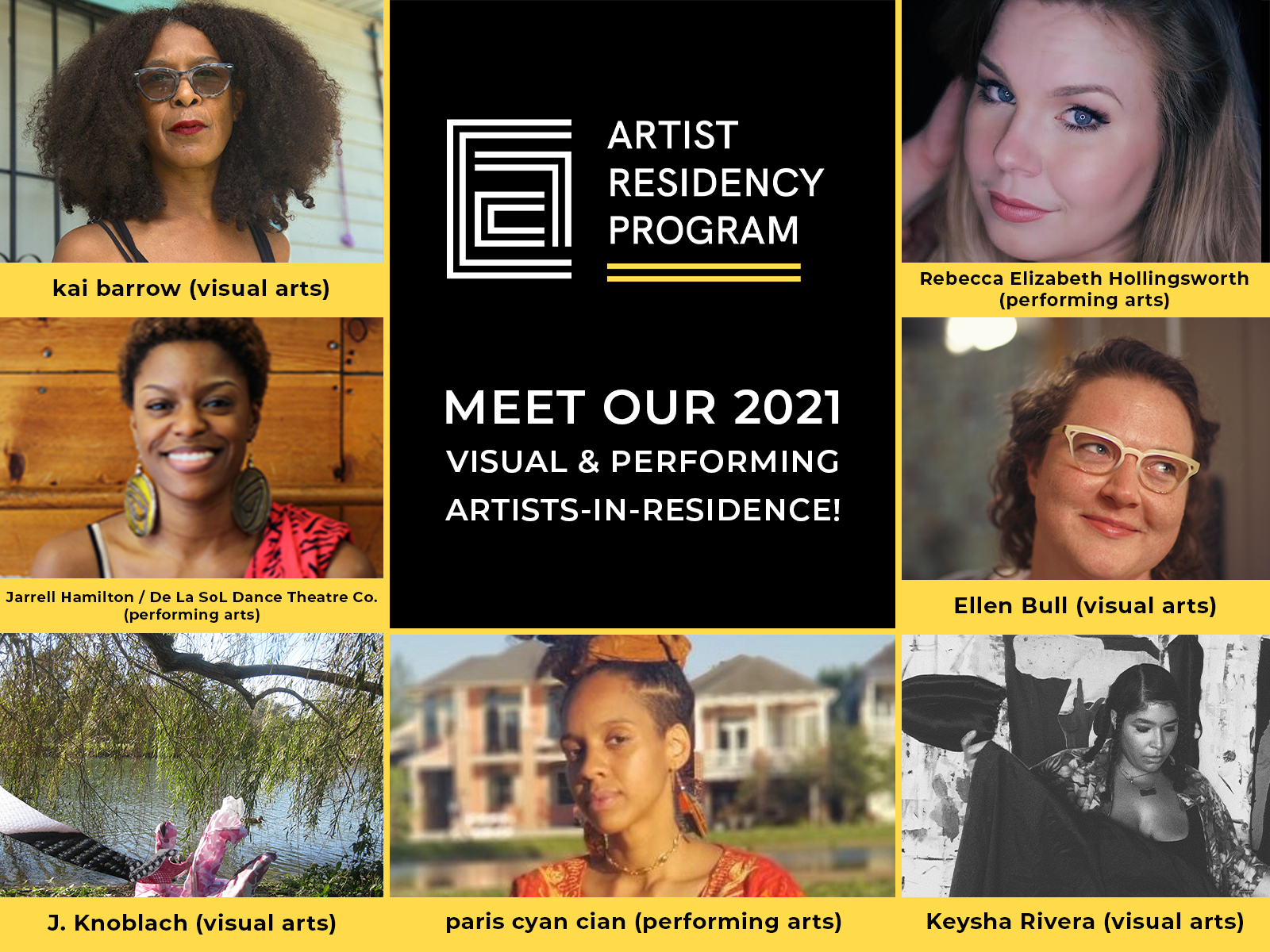 (New Orleans, LA - May 13, 2021): The Contemporary Arts Center, New Orleans (CAC) announced today the selection of seven visual and performing artists for its 2021 Artist Residency program, which advances the CAC's mission to foster and engage artistic communities and supports the creation of multidisciplinary art of our time. The New Orleans based artists were selected from nearly 60 applicants by the CAC programs department. In addition to being awarded an unrestricted stipend of $500 for individuals and $700 for groups, each artist receives access to time, space, resources, and professional development opportunities from the CAC.
The diverse group of artists selected represent the breadth of important and innovative work being created by artists today in the New Orleans community. The CAC's 2021 Visual Artists-in-Residence include Ellen Bull, a costume and scenic designer working primarily in theatre and film; kai barrow, a visual and performance artist; Keysha Rivera, a multidisciplinary artist with a focus on textile exploration; and J Knoblach, an artist whose combination of running cross country and track and studying feminist body art led to an interdisciplinary practice rooted in performance.
The CAC's 2021 Performing Artists-in-Residence include paris cyan cian, a movement architect working with and through various interdisciplinary forms of dance, drawing, film, photography, and sound; Jarrell Hamilton, a mother, choreographer, performer, educator and writer who is in collaboration with De La SoL Dance-Theater Co.; and Rebecca Elizabeth Hollingsworth, a multidisciplinary artist and theatre-maker.
The CAC's Artist Residency program is an application-based program offering time, space, resources, and professional development opportunities for visual and performing artists in New Orleans. Visual artists each receive 1,000 square feet of studio space to create solo exhibitions of new work over the course of their three-month residency. The Visual Arts residency period runs from May 31 – August 2, 2021 and culminates with the CAC's 2021 SOLOS exhibition, on view August 27 – September 26, 2021 in the CAC's second floor gallery space.
Simultaneously, the performing artists and companies are invited to participate in a series of intensive two-week residencies in the CAC's Black Box Theater with support from CAC technical and curatorial staff. The Performing Arts residency schedule includes the following dates: Intensive #1: May 31 – June 13; Intensive #2: June 14 – June 27; Intensive #3: August 9 – August 22. The performing arts residents return in August to rehearse and perform their works featured in work-in-progress performance showcases that will be open to the public nightly, August 27, 28, and 29 at 7:30 pm in the CAC's Black Box Theater. Stay tuned for tickets and other details, coming soon at cacno.org.
2021 CAC VISUAL ARTISTS-IN-RESIDENCE
Ellen Bull is a costume and scenic designer working primarily in theatre and film in New Orleans. She pairs her background in painting and printmaking with her theatrical designs to create whimsical works in textiles, puppetry, costumes, and scenic installations. Her works enjoy exploring the absurd as well as the practice of reimagining materials into new wholes. Much of her art works to facilitate story through the use of visuals, with an emphasis on character development through the use of costumes, scenic elements, and props. She has designed each for stage and screen, inhabiting period settings, the present, and many fantastical and abstract worlds. Ellen received her BA from Tulane University in Studio Art, Art History, and Women's Studies and her MFA in Theatre Design (Costume and Scenic Design) from Tulane University in 2019.
kai barrow is a visual and performance artist who lives and works in New Orleans. Barrow is interested in the praxis of Black radical imagination. Experimenting with the idea of an abolitionist art vernacular, her sprawling paintings, installations, and sculptures are formed in traditional and non-traditional environments to transgress biological, ideological, and carceral borders. Barrow's found object sculptural installations, performances, and environments use materials such as dirt, rope, coffee, indigo, cotton, branches, and bones as a visual and ethnographic language. Together with her four muses: Absurdity, Sarcasm, Myth, and Merriment, the work performs queer, Black, feminist theory as an aesthetic genre. Barrow is a self-taught artist. She is a member of Alternate Roots and a founding member of Gallery of the Streets, a national network of artists, activists, and scholars who work at the nexus of art, education, social change, and community engagement. Artist residencies, fellowships, and awards include the Joan Mitchell Center (9/20-2/21); A Studio in the Woods (9/19), the Weavers Project Fellowship (2017-2019), and the Kindle Project's "Makers Muse" award. In 2020, barrow was awarded a "YBCA 100" award for her work at the intersections of art and activism. For more information, kailbarrow.com and galleryofthestreets.org.
Keysha Rivera is a New Orleans-based multidisciplinary artist with a focus on textile exploration. As a Puerto Rican artist, Keysha Rivera is interested in exploring the intersections of place, identity, and the body. Her paintings pay homage to the Caribbean, the African diaspora, indigenous ancestry, and the generational relationship to colonialism and imperialism by using corresponding colors, themes, and elements. She uniquely uses fabric, a life processing tool that manifests into intricate creations.
J Knoblach lives and works in New Orleans but was born in Slidell near Honey Island Swamp. The combination of running cross country and track and studying feminist body art led to an interdisciplinary practice rooted in performance. By products of a physical action may become sculpture, photography, video, or text. In some instances, the audience is invited to interact directly with the work, such as the installation "Dial Zero." Solo exhibitions include 'Magenta Alert' at Staple Goods (2017) and 'Welcome to the #socialartwork' at Good Children Gallery (2014). Group exhibitions include Artsy via LeMieux Galleries, Contemporary Arts Center New Orleans, the Ogden Museum, the Louisiana State Museum, the New York Transit Museum, the Museum of Modern Art in NY, Makeshift Museum in L.A., Museo de la Ciudad de México, LABOR Gallery in Mexico, Pari Passu Gallery in Queens, UNO St. Claude Gallery, Barrister's Gallery, The Front Gallery, Antenna Gallery, Boyd Satellite Gallery, and Fossil Free Fest. Publications include 101 Contemporary Artists, New Orleans Art Review, Artvoices Magazine, and special collections include Koç University (Istanbul), the Collins C. Diboll Library (New Orleans), as well as in private homes. Knoblach is a member of Staple Goods Gallery off of St. Claude Ave.
2021 CAC PERFORMING ARTISTS-IN-RESIDENCE
paris cyan cian is a movement architect working with and through various interdisciplinary forms of dance, drawing, film, photography, and sound. Rooted in New Orleans, cyan's creative work crosses at the intersections of Black girlhood futurity, ecology, and ritual/offerings, centering re-memory and durational play through Black (queer) feminist methodologies. cyan is committed to embodied practices of cosmic love and worldmaking, centered in joy and gratitude. Performance exhibitions/installations, practices, and organizing include Merde Project Artist, Eleanor D. Wilson Museum Virginia, Radical XChange, Saint Heron, BlackGirlGeniusWeek/SOLHOT, No)one. Art House LA, and Dancing Grounds. cyan cian received her BFA/BA in Dance with a concentration in social justice, gender women's studies from Hollins University (2018) and is a current candidate in the Masters of Fine Arts in Choreography program at Roehampton University, London, U.K (2021).
Jarrell Hamilton is a Mother, Choreographer, Performer, Educator and Writer who is in collaboration with De La Sol Dance-Theatre Co. A graduate of Tulane University Theatre and Dance Department Master of Fine Arts Interdisciplinary Dance Program (Choreography and African-American Studies), Hamilton is a 7-time Big Easy Classical Arts Award nominee, 2016 "Best Modern Presentation," 2013 winner for "Best Contemporary Choreographer," 2018 "Best Ensemble" (Ain't Misbehavin'), Coming Up Taller Awardee for President's Committee and Humanities and Tulane School of Liberal Arts Fellowship Awardee. Currently, Hamilton is Founder/ Artistic Director of JH+ De La SoL Dance-Theater Co. a New Orleans based dance company that creates original, interdisciplinary work in dance-theatre, film, performance, cultural work, and conceptual art that seeks to elevate and make equitable the stories of Southern culture, rooted in contemporary Afro-New Orleans traditions. Hamilton love's life, quiet moments by the water, and a good bowl of gumbo-extra rice. Her life's mission is to help others create abundance, creativity, and an elevated sense of self, cultivated from within. www.jarrellhamilton.com
Rebecca Elizabeth Hollingsworth is a multidisciplinary artist and theatre maker based in New Orleans. Her main artistic goal is to merge performers and design elements to offer audiences individualized immersive experiences of femme driven narratives. Mentored from childhood by an Emmy Award winning SFX artist, Rebecca's work explores hyper-realistic moments of horror juxtaposed with the fantasy of a highly designed theatrical environment. She facilitates development by providing collaborators with throughout research, a distinct vision, and a supportive environment to encourage a common creative language. Her devising credits include Alleged Lesbian Activities (Last Call) and Nocturnes (Skin Horse Theatre) and she is a member of The Radical Buffoons.
The CAC's Artist Residency program is made possible with support from The Andrew W. Mellon Foundation, which supports the development of new multi-disciplinary work and cross-sector engagement for visual and performing artists through 2023.
Patrons are invited to plan their visit and experience art safely at the CAC. Entry to the CAC is by online reservation only, capacity is limited, and mask-wearing is required. Visit cacno.org for gallery hours, timed-ticketing information, and to review the CAC's enhanced Health and Safety guidelines before visiting.
About the CAC
The CAC is a multidisciplinary arts center that is dedicated to the presentation, production, and promotion of the art of our time. The CAC is a cultural leader. As such, it organizes, presents, and tours curated exhibitions, performances and programs by local, regional, national, and international artists. It demonstrates proactive local and regional leadership by educating children and adults, cultivating and growing audiences, and initiating and encouraging collaboration among diverse artists, institutions, communities, and supporters. Museum admission is free on Sundays for Louisiana residents, courtesy of The Helis Foundation. Children and students through Grade 12 and under receive free admission, courtesy of The Helis Foundation. The CAC is located at 900 Camp Street, and can be reached by phone at (504) 528-3805. For more information about CAC and to sign up for email updates, visit cacno.org.
Media Contact
Laura B. Tennyson
Associate Director of Communications
Contemporary Arts Center
(504) 319-9943 | LTennyson@cacno.org
900 Camp Street, New Orleans, LA 70130