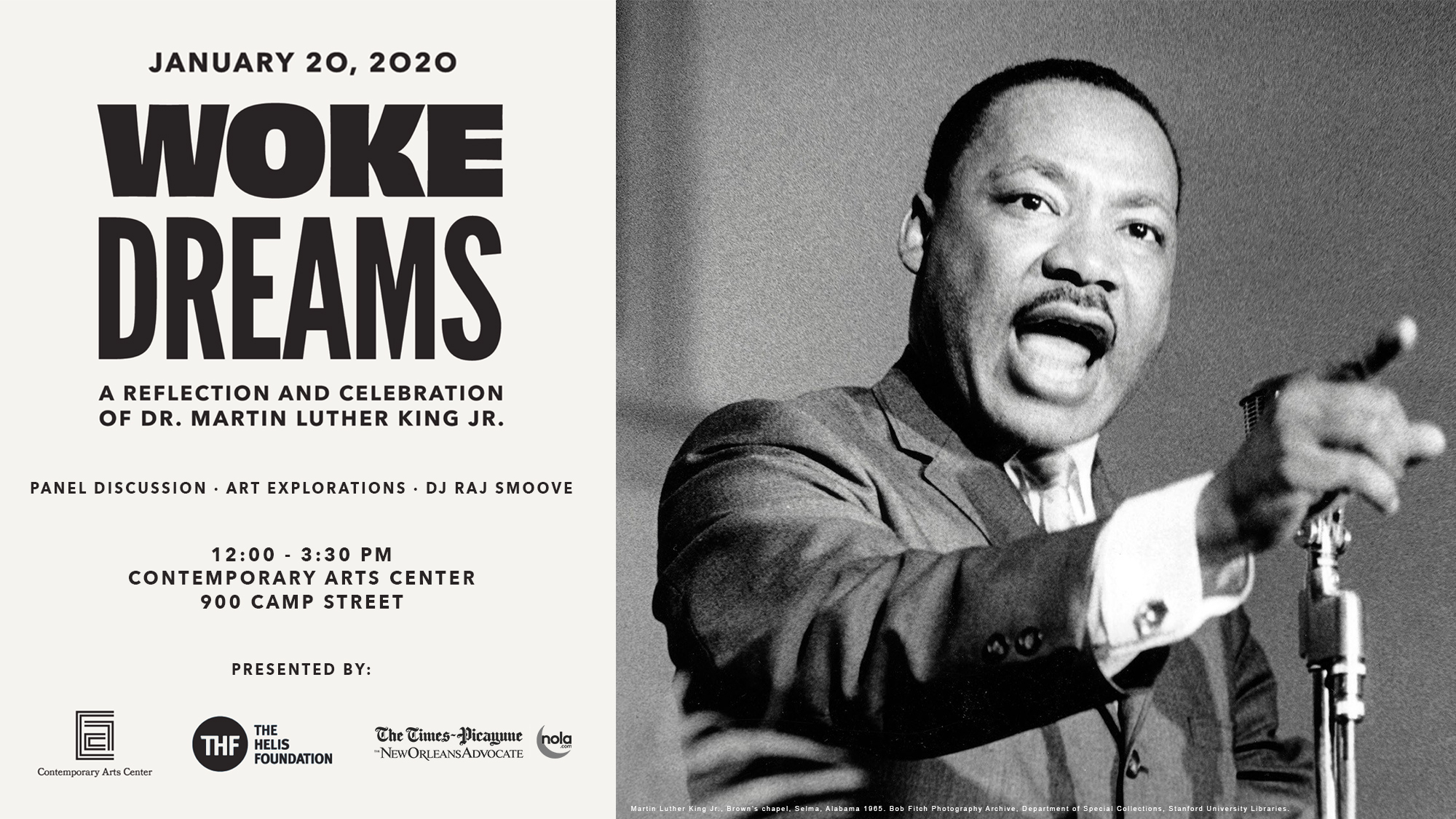 On Monday, January 20 from 12-3:30 pm, join us at the CAC for WOKE DREAMS, a reflective celebration of Dr. Martin Luther King Jr.'s impact on today's social movements, and the role that art plays in advancing activism and social justice. Through a panel discussion, music, and art explorations, guests are invited to reflect upon and celebrate Dr. King's legacy.
WOKE DREAMS is free and open to the public, courtesy of The Helis Foundation! Admission to the CAC's exhibitions will also be free to enjoy, featuring works by Mickalene Thomas, Akosua Adoma Owusu, Meg Turner, and collaborative artist and retail collective Les Femmes Féroces. A special menu of food and drinks will be available for sale from La Vie En Rose Cafe.
This event is free and open to the public but registration is requested. RSVP here!
Panel Discussion: Art, Community, and Activism
Join our all-star panel for a conversation about the intersection of art, community, and activism at the center of the old and new civil rights movements, in the heart of the Mickalene Thomas: Femmes Noires exhibition at the CAC. Panelists include:
Ranord J. Darensburg JD, RSW, Judicial Administrator, Orleans Parish Juvenile Court
Stephanie McKee, Director, Junebug Productions
Alanah Odoms-Hebert, Executive Director, ACLU of Louisiana
Kathy Randels, Artist, Art Spot & The Graduates
Dr. David Robinson, The Center for Equity, Justice, and the Human Spirit
Jose Cotto: "Cultivating history, Documenting dreams"
Artist Jose Cotto invites you to take part in his photographic project to capture intimate one-on-one portraits of individuals -- and their dream-like auras -- through innovative photographic techniques.
Les Femmes Féroces Presents Jet Costello, Artist
New Orleans-based artist Jet Costello and CAC resident art collective Les Femmes Féroces will present a memorial altar installation to honor murdered Trans women from across the country created especially for WOKE DREAMS.
DJ Raj Smoove: "When Oppressed, Knowledge Endures"
In the CAC Atrium, experience DJ Raj Smoove's curated set entitled "When Oppressed, Knowledge Endures," featuring songs and beats from the Civil Rights era and beyond. Raj Smoove, called "The Greatest DJ in the World" by Lil Wayne, is the premier DJ in the New Orleans Metropolitan area. Currently Raj Smoove holds residencies at the Foundation Room at House of Blues New Orleans and on the air every Saturday night on 98.5 WYLD's Saturday Night Live. Listen to "When Oppressed, Knowledge Endures" here!
Special MLK Day Menu from La Vie En Rose Cafe
La Vie En Rose Cafe, located in the CAC's cafe and retail space, will be serving a special variety of culinary delights in celebration of Martin Luther King Day! Learn more about La Vie En Rose Cafe at the CAC