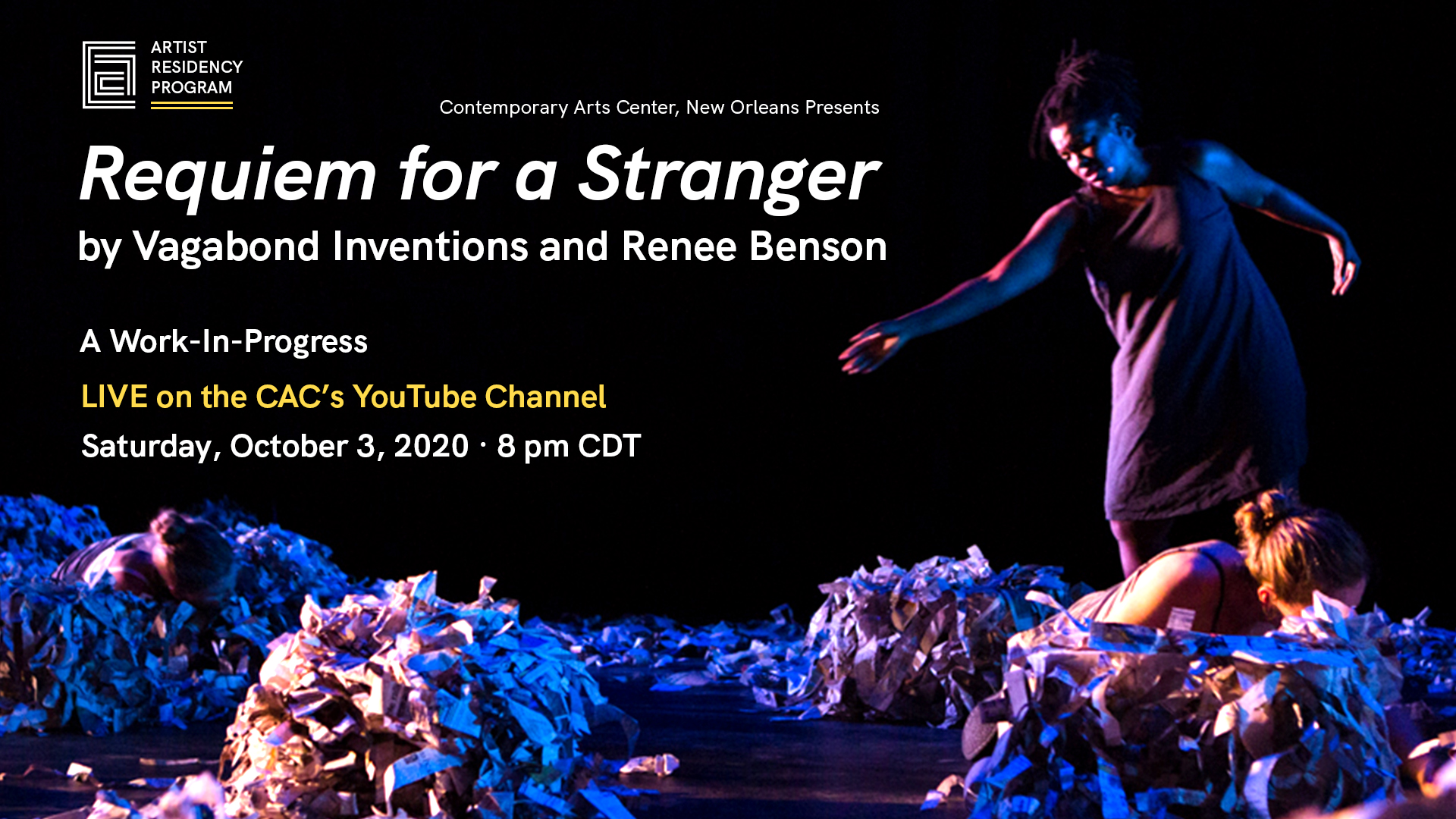 The CAC is excited to present our first-ever LIVE YouTube performance broadcast, featuring Requiem for a Stranger, a work-in-progress performance by CAC Artists-in-Residence Vagabond Inventions and Renee Benson. The performance was streamed live to the general public on the CAC's YouTube channel at 8 pm CDT on Saturday, October 3.
Watch the recorded broadcast on our YouTube channel and please subscribe!
About the Work
Requiem for a Stranger is an expansive work of music and movement-theater created by physical theater company Vagabond Inventions in collaboration with Singer-Composer Renee Benson. This episodic, ensemble-devised project explores the heartspace of grief - an emotion that mainstream American culture habitually avoids, but which currently overwhelms our daily life. Although initially conceived pre-pandemic, this project has met the moment of the Covid-19 crisis - and the way a recognizable present is transforming into a lost past. Drawing inspiration from the poetry of adrienne maree brown, Nikki Giovanni, Rainer Maria Rilke, and the intimate experiences of the creators, Requiem conjures a world of disorientation - a storm where all realities dissolve except love and absence. Between dynamic movement exploring disordered memory and attempts to delay time - wailing, rapping, and song tell the story of drowning in mythological rivers and calling to the ether in praise.
Requiem for a Stranger is a devised work created with designer Jeff Becker and performers Grace Booth and Jalisa Roberts. It is part of a larger series of community rituals, meditative film projects, and an online platform for storytelling and healing resources, slated to continue into 2021 and created in partnership with the Contemporary Arts Center, New Orleans African American Museum, and Mindy Milan of the Center for Mind Body Medicine.
This work was performed as part of the CAC's Southern Crossings residency showcase at Art for Arts' Sake in October of 2019. Requiem for a Stranger is supported by Alternate Roots, the Network of Ensemble Theaters, and the New Orleans Jazz and Heritage Foundation.
Credits:
Co-Conception: Renee Benson and Jennifer Sargent
Performers: Renee Benson, Grace Booth, Jalisa Roberts, and Jennifer Sargent
Directed by: Jennifer Sargent
Music/ Sound Composed by: Renee Benson
Design by: Jeff Becker
Light Co-Designed by: Jo Nazro
Costumes by: AYA Designs Global
Anti-Colonial Dramaturg: Alaina Comeaux
Physical Dramaturg: Penelope McCourty
Stage Manager: Rebecca McLaughlin

About CAC Artist Residencies
The CAC Artist Residency program is a 2020 pilot initiative, evolving from the 2018 and 2019 Southern Crossings project, to offer time, space, resources, and professional development opportunities for artists in New Orleans. Especially in light of the COVID-19 pandemic, the CAC strives to be a vital resource for artists of all practices in our community during this difficult time Learn more about the program, here.